Personal Development
How to Become a Speech Therapist
Communication is an essential skill of life and it is the 'speech' through which we communicate and express ourselves to others. As Dr Dawson stated to BBC, "Eating, drinking and communicating are core and innate parts of being human. These functions enable us to connect, to be with people and share experiences central to our cultures and the way we interact with society."
When conveying thoughts becomes difficult due to speech impairment, alongside swallowing and drinking problems, that is when a speech therapist steps in.
A speech therapist aids in communicating better by diagnosing speech or language disorders and suggesting therapies to their patients. Their job is not limited to providing treatments and exercises to their clients; rather, they are supposed to treat their patients with compassion and empathy and facilitate in overcoming their challenges by motivating them.
Those who seek interest in language and linguistics, science, and psychology can embrace this profession and pursue to be a speech therapist. You need to follow some steps to kickstart your career as a speech therapist, which you can find reading this blog.
A speech therapist is a health professional who diagnoses and treats speech, language, cognitive-communication, and swallowing problems of both adults and children. They work with people who have difficulty communicating because of stroke, brain injuries, learning disability, dementia, hearing loss and other problems that can affect speech and language. 
Speech therapists are educated in human communication, its development and its disorders. They usually provide therapies to treat a variety of conditions.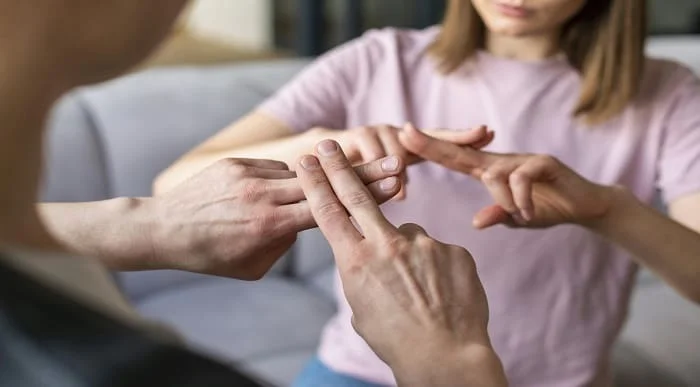 British Sign Language (BSL) Level 1 & 2 Course Online
Accredited Courses
Tutor Support Included
3 Installment Plan at checkout
14 Days Money Back Guarantee
What does a Speech Therapist Do? 
Along with helping patients with speech-related and swallowing problems, speech therapists work in a multi-disciplinary team in different settings, from hospitals to community clinics to patients' homes, to provide therapies. Their responsibilities may include:
Evaluating a person's communication or swallowing abilities
Developing treatment plan as per client's needs
Maintaining records to track a patient's progress
Showing patients how to make certain sounds and how to move the tongue to produce specific sounds
Helping clients increase the number of words they can say and understand
Working with patients to improve the way they put the words together while producing a sentence
Providing oral exercises to strengthen the muscles of the mouth for eating, drinking, and swallowing
Providing Augmentative and Alternative Communication (AAC) systems for people who have severe language disorders
Providing a type of treatment called aural rehabilitation that helps improve the quality of life for people with hearing loss.
Educating patients to overcome challenges stemming from the communication or swallowing problem
---
Whom do Speech Therapists Help?  
Speech therapists remain responsible for treating people with different types of communication and swallowing problems. Some of them are-
Speech Disorders 
These conditions make it difficult to produce sounds. Some examples include-
apraxia – the brain has trouble directing the movements of the muscles used to speak
stuttering – the flow of speech is broken by pauses and repetition
dysarthria – weakness in the muscles used in speech caused by brain injury
articulation disorders – the inability to form certain sounds like "th" or "r"
Language Disorders
These may be the difficulty of understanding language or the difficulty of making oneself understood to others. Some examples are-
aphasia – difficulty in speaking or understanding others because of damage to the brain
auditory processing disorder- the brain has trouble understanding the meaning of sounds
Cognitive-Communication Disorders 
These disorders result from an injury to the brain that causes problems with memory, attention, organisation, or reasoning. Cognitive-communication disorders can make it difficult for a person to speak, listen, read, or write. The causes of cognitive-communication disorders are traumatic brain injury, stroke and dementia.
Social-Communication Disorders 
These conditions make it hard to communicate socially, such as greeting, asking questions, and taking part in conversations. Difficulty with social communication can be caused by traumatic brain injury or autism spectrum disorder.
Swallowing Disorders
Also known as dysphagia, swallowing disorders are problems with eating and swallowing. The symptoms of swallowing disorders include coughing or choking during or after eating, food leaking from the mouth, taking much longer than normal to finish meals, weight loss, dehydration, and frequent pneumonia. 
---
What are the Required Skills of a Speech Therapist? 
Being a speech therapist requires possessing soft skills as they need to treat patients who might be sensitive. The following gives an insight into some of the must-have skills of a speech therapist.
Patience-This is the first and foremost skill that a speech therapist should adopt. As a speech therapist, you need to help patients in speaking, swallowing, hearing and many more. Some patients will need a longer time to cure and some might not show improvement at all. Since you have to confront patients of different dimensions, you need to be patient and be positive all the time. 
Compassion and empathy: A speech therapist needs to act with patience, compassion and empathy to make their patients feel comfortable. The patients can be frustrated or embarrassed with their condition and so you should be considerate enough to understand their situation and make progress in their treatment.
Listening skill- You have to be an expert listener as you will spend most of your time listening to people's health-related issues.
Communication skills- A speech therapist's job mostly depends on communication since they convey tasks and therapy strategies to patients, their families, social workers, and others. Clear verbal and non-verbal communication is an important element of being a speech therapist.
Enthusiasm- Your patient may sometimes find the therapy particularly challenging and might not want to cooperate. You may struggle to convince your patient to continue the treatment. Your enthusiasm and dedication towards your profession would keep you going in such a condition. 
Top Courses of this Category
Where do Speech Therapists Work?
Speech therapists can be found to work in multiple settings, which may include-
Physicians' office
Private practice
Hospitals and community clinics
Nurseries and schools (mainstream and special)
Child development centres
Colleges and universities
Rehabilitation centres
Residential healthcare facilities
---
Working Hours:
The standard working hours can be around 40 hours per week and may include a mix of morning, nights, evenings, and weekend shifts. There are opportunities for part-time work and job-sharing as well.
---
How to Become a Speech Therapist:
To be a speech therapist, you need to complete the Health and Care Professions Council (HCPC) approved undergraduate or postgraduate degree in speech and language therapy and be registered with HCPC. Have a look at the following steps to know in detail how to become a speech therapist. 
Complete Formal Education
Speech therapists must complete both undergraduate and postgraduate degrees. The speech therapists usually have their bachelor's degree in subjects like speech-language pathology, communication sciences and disorders, behavioural and social science. 
To get into a speech and language therapy bachelor's course, you will need the following- 
2 or 3 A-levels, along with 5 GCSEs (grades A-C)
English language, Maths and Science courses 
The alternative way to enter university can be- 
Business and Technology Education Council (BTEC), Higher National Diploma (HND) or Higher National Certificate (HNC), which includes Science
Relevant National Vocational Qualification (NVQ) 
Access course based on Science
Equivalent Scottish qualifications
Equivalent Irish qualifications
Those who have a bachelor's degree, can take an accelerated two-year postgraduate course in order to qualify. Some course providers ask for specific subjects relevant to speech and language therapy such as psychology, human biology, linguistics/languages, social science or medical sciences. Before selecting a post-graduate program, remember to check whether it is accredited or not.  
Once you have successfully completed a program, you can apply for registration with the HCPC. Once registered as a practitioner, you will be required to retain your name on the register by keeping your knowledge and skills up to date and paying an annual retention fee.
Check out this blog to learn how to become a therapist without a degree.
Degree Apprenticeship 
You can also choose a degree apprenticeship that will offer you the chance to earn a living while gaining your qualification. The entry requirement is 4 or 5 GCSEs at grades 9 to 4 (A* to C) or A levels in college. 
Develop Soft Skills 
Academic qualifications aren't the only thing you need to be a successful speech therapist. You should be able to motivate and reassure people of all ages using your excellent communication skills. You should also be able to problem solve and show real leadership and organisational skills. That is why you need to focus on improving your soft skills besides achieving the academic qualifications. 
On-Demand Accredited Courses
Analyze data quickly and easily with powerful PHP library! All datasets included where beginners welcome!
How much does Speech Therapists Earn?
Speech therapists work in a variety of settings ranging from schools and hospitals to rehabilitation centres and their job is not an easy one. The income of speech therapists varies according to their experience level and the location where they work.
According to indeed, "The average salary for a speech therapist is £35,389 per year in the United Kingdom."
As per PROSPECTS, "Typical salaries for advanced or highly specialised Speech Therapists range from £38,890 to £44,503." 
The following table shows the highest paying cities for Speech Therapists in the United Kingdom, as mentioned by indeed. 
| | |
| --- | --- |
| City | Salary |
| London  | £40,383 |
| Nottingham  | £36,769 |
| Stapleford  | £35,907 |
| Manchester  | £34,648 |
| Leeds  | £33,847 |
How to Gain Work Experience as a Speech Therapist?
Your local Speech and Language Therapy department can be a great option where you can look for work. There are a substantial number of private speech therapists in the UK and they may be willing to offer work experience. Working for a private practice during your university holidays can be a great way to gain additional experience. 
Students who study a postgraduate course in speech therapy come into contact with speech therapy through volunteer work which can be an excellent way to gain work experience. Volunteering is also possible through working with children and adults with a learning disability, older people or disabled people, particularly those recovering from a stroke or head injury. 
You can also try to gain experience by working as a speech therapy assistant/support worker or bilingual co-worker under the guidance of a qualified speech therapist.
---
Frequently Asked Questions:
Are Speech Therapists a Doctor?
While speech therapists are not considered as doctors, they are highly educated and specialised healthcare professionals. Hence, they often work closely with doctors, nurses, and other specialists and professionals. They perform necessary tests and evaluations to identify areas of concern, establish a diagnosis, and then work collaboratively with other therapists and medical professionals to devise customised treatment plans for each patient. 
Is there any difference between a Speech Therapist and a Speech Pathologist?
There is no difference between a speech therapist and a speech pathologist; they are the same profession. Further, the term 'speech-language pathologist' is the preferred term. The meaning of the word 'pathologist' here is to find the cause and effect of something. Subsequently, the job of a speech-language pathologist is to find the cause of a certain communication problem and work with their patient to improve and strengthen language and communication skills.  
Conclusion:  
Speech therapists play a significant role in treating speech and language related disorders along with swallowing and drinking problems. While there are challenges and stresses due to workload, this profession can be an extremely rewarding one. What can be more satisfying than seeing your client speak clearly or overcoming their communication problems because of your effort? Further, if you want to be the reason for someone's recovery from a speech impediment and other relevant issues, do not hesitate to consider a career as a speech therapist.
---
What to Read Next: