Personal Development
How to Become a Dermatologist in the UK – The Ultimate Guide
Looking for a step-by-step guideline on how to become a dermatologist in the UK? To qualify as a dermatologist, you must have a degree in medicine recognised by the General Medical Council and a two-year foundation programme specialising in Dermatology. But don't be upset about this one-line answer here. In the following sections, you will find a complete illustration of the procedures of this career path.
If you desire to help people obtain and maintain healthy skin, you should think about pursuing a career in dermatology. You can identify and treat skin problems as a dermatologist, allowing patients to look and feel their best. Learning about dermatology requirements can help you decide if it's the appropriate career.
In this write-up, we will explore what a dermatologist does, where they work, how to become one, list their common skills, and expose their average salary and job prospects.
So, let's get started without further ado.
First, we will get acquainted with the term 'dermatology' and explore the typical responsibilities of a dermatologist.
What is Dermatology?
Dermatology is a medical speciality that deals with skin, hair, and nail problems in humans and animals. It entails identifying and treating up to 3,000 different conditions that affect patients. The skin is a distinct body organ and one of the five human senses that–
aids in disease prevention,
coats every other organ,
regulates body temperature,
and performs other functions.
Genetics, poor hygiene, malnutrition, cosmetic accidents, and other factors can cause skin diseases. For example, some of the most common skin defects include eczema, vitiligo, psoriasis, and skin cancer.
To finish their training, a dermatologist goes through-
| | | |
| --- | --- | --- |
| Medical school | Foundation training | Speciality training |
It is also necessary to join the Royal College of Physicians of the United Kingdom. Dermatology trains expert medical practitioners and skin surgeons with the knowledge and experience needed to treat skin conditions. It also includes treating cosmetic issues and providing expert medical consultations to patients.
Are you interested in taking a course on acne-prone skincare?
Our
Skincare for Acne Prone Skin Online Training Course
is perfect for those working in the beauty industry or for anybody who wants to learn how to treat acne-prone skin and identify its underlying causes. This course is also appropriate for makeup artists who wish to discover the best techniques for applying makeup to acne-prone skin.
What Does a Dermatologist do?
Dermatologists are trained doctors who specialise in treating skin problems ranging from acne to cancer. They can also treat and diagnose diseases involving the-
hair,
nails,
and mucous membranes.
The frequent responsibilities of a dermatologist are to-
conduct clinical studies,
administer drugs,
and perform minor operations to address skin abnormalities.
Dermatologists also conduct the following tasks:
Consultation with Patients to Assess Skin, Hair, or Nail Problems:
Dermatologists collect medical histories, examine patients, look for abnormalities, and explain diagnoses. This field also includes examining problem areas-
using a dermatoscopy,
or taking a skin biopsy.
Preparing Treatment Plans for Patients
Dermatologists prescribe drugs, remove abnormalities such as warts, or perform surgery to address concerns such as moles, depending on the diagnosis. Basically, they must also be specialised in diagnosing.
Addressing Cosmetic Issues Like Ageing and Birthmarks
Dermatologists apply-
lasers to treat birthmarks,
botox to cure wrinkles,
and skin grafting to aid patients with severe scarring.
Follow-up Examinations or Treatments
Many dermatological treatments require numerous sessions to resolve, and dermatologists track patient progress to determine how best to address patients' issues in the future.
So, the overall working areas of a dermatologist vary in a diversified way. For instance:
A dermatologist will treat common ailments like-
skin cancer,
severe drug rashes,
eczema,
psoriasis,
acne.
Patients may arrive with distinct skin problems, and you may be involved in:
Eliminating skin cancer
Diagnostic biopsies, such as rashes
UV light therapy for inflammatory dermatoses
Contact dermatitis study
Using a dermatoscope to examine and diagnose skin disorders
Intralesional injections (for example, steroid, botulinum toxin)
Cryosurgery for benign or precancerous skin lesions
Now, let's explore the advantageous factors of becoming a dermatologist.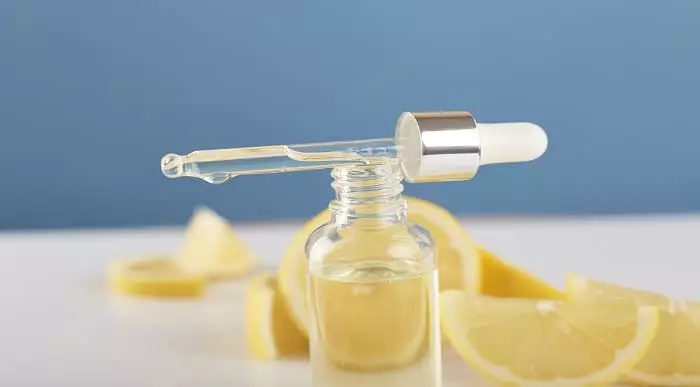 Ayurvedic Massage Advanced Diploma Course Online
CPD Accredited Course
High Quality Study Materials
Learn at Your Own Pace
14 days Money Back Guarantee
Benefits of Becoming a Dermatologist
Dermatology continues to be a significant career path for many medical graduates. With an ageing population and an increasing prevalence of skin cancer, the demand for Dermatologists in the UK is greater than ever. Consider the following:
Make a difference
Flexible and part-time job
High income early in your career
Work anywhere in the world
Great pension scheme
Nice holiday entitlement
NHS discounts in stores and restaurants
Now, let's move on to the next section to understand dermatologists' qualifications in the UK better.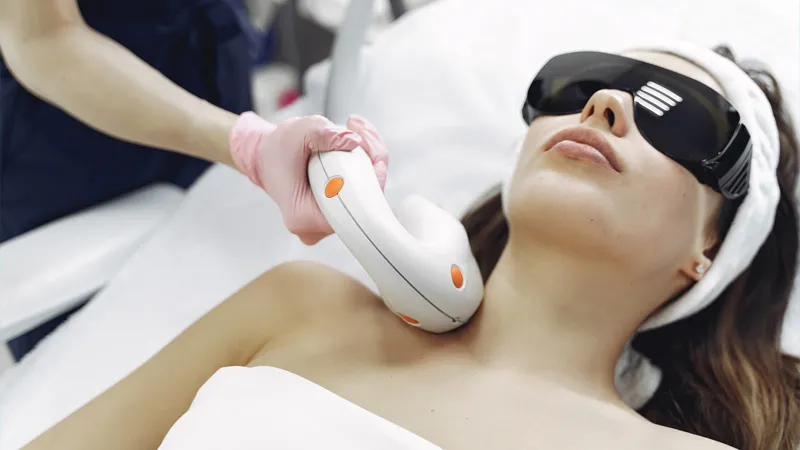 How to Become a Dermatologist in the UK?
The most anticipated section has arrived: "What qualifications does one need to be a dermatologist?" In the UK, dermatology is one of the most sought-after medical specialities, with fierce competition for places. The requirements to become a consultant dermatologist are as follows:
Get a Bachelor's Degree
A bachelor's degree is often required for dermatologists in order to work in this field. These professionals frequently major in-
biology,
chemistry,
and physics,
-which helps them be ready for medical school and gives them a foundation for the different medical principles they use. Consider taking these subjects if they aren't a part of your degree path, as medical schools frequently require students to take additional necessary courses during their undergraduate studies, such as
mathematics,
organic chemistry,
anatomy,
and English.
Entry Requirements on the Path of Dermatologist Degree
A five-year undergraduate degree in medicine typically requires excellent GCSEs and three A or A* passes at A level, including chemistry. Many medical schools require biology, while others may require math or physics.
You can pursue a four-year postgraduate degree in medicine if you already have a degree.
You must pass an interview as well as an admissions test. In addition, you'll be asked to demonstrate how you display NHS values like compassion and respect.
Some medical schools seek students from diverse backgrounds and geographical areas, so your educational and economic background and your family circumstances may be considered part of your application.
Top Courses of this Category
Complete Your Foundation Year Training
Following medical school, you will begin a two-year paid foundation programme in which you will work in six different settings plus one core training in one of the following courses:
| | | |
| --- | --- | --- |
| 2-3 years of | Internal medicine | MRCP |
| 3 years of | Acute medicine | MRCP |
| | | | |
| --- | --- | --- | --- |
| 3 years of | Paediatrics | 1 year adult internal medicine | MRCPCH |
MRCP- Membership of the Royal Colleges of Physicians
MRCPCH- Membership of the Royal College of Paediatrics and Child Health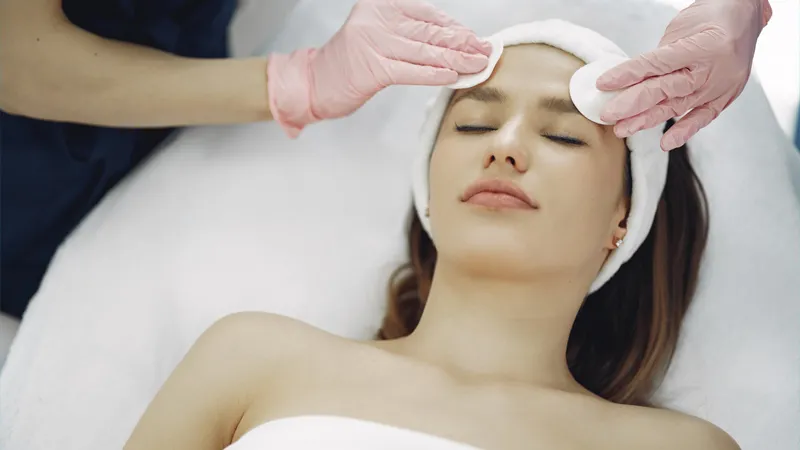 Complete Your Speciality Training
After completing your foundation programme, you can apply for paid speciality training to become a dermatologist, which will take at least six or seven years.
Part-time training may be possible for health reasons or if you have family or caring responsibilities.
To become a dermatologist, you must pass the Speciality Certificate Examination (SCE). This is a necessary part of the assessment for the Certificate of Completion of Training (CCT) for all UK trainees wishing to specialise in Dermatology. The exam supplements work-based assessments to ensure that trainees have sufficient knowledge to practise as consultant dermatologists.
Once completed, you will be able to join the GMC Specialist register and be recognised as a consultant dermatologist.
Apply for Jobs
You can apply for permanent consultant jobs now that you have completed your specialist training and are on the GMC specialist register. From here, You will have the option to specialise in:
Advanced skin surgery and Mohs' micrographic surgery
Cutaneous allergy and immunology
Advanced medical dermatology
Oral and genital dermatoses
Photodermatoses and photobiology
Cosmetic/aesthetic dermatology
Hair and nails
Paediatric dermatology
A statement about Masters and MDs
A Masters or MD in Dermatology from the UK can look good on your CV, but these medical degrees are entirely optional. They are not part of the speciality training programme in the UK and do not lead to recognition as a Consultant Dermatologist.
Must-have Skills
In addition to the skills gained from your qualifications and medical training to be a dermatologist, you will need the following to become a dermatologist:
Excellent communication skills are required to manage a variety of relationships with colleagues, patients, and their families throughout the treatment process.
The emotional strength of character and the ability to work well under pressure.
Patients deserve compassion and empathy. So, patients in pain or embarrassed about their skin will approach you, so you must be understanding and compassionate.
Teamwork and the ability to lead multidisciplinary teams are required.
Problem-solving and diagnostic abilities are required to develop solutions for a wide range of skin conditions.
Exceptional organisational skills and effective decision-making abilities.
You'll need to manage your time and resources because you'll be working with a diverse group of patients on a variety of issues.
You must be able to coordinate treatment plans for a number of patients.
You'll need dexterity and attention to detail because you'll be using tools to treat minor skin abnormalities.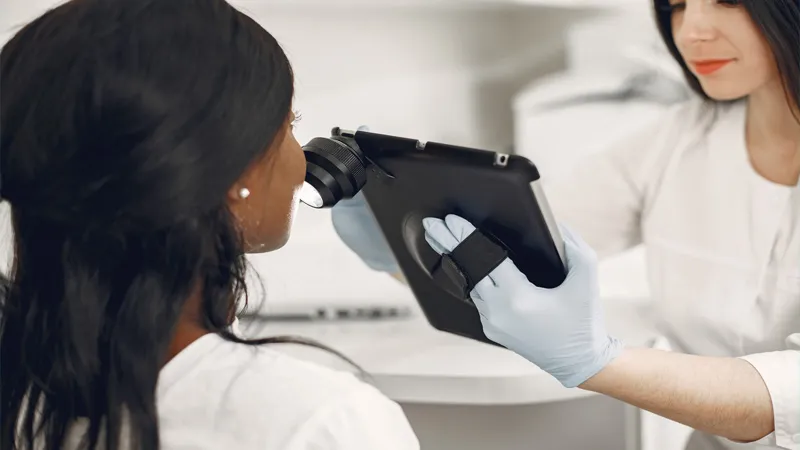 How Much Does a Dermatologist Earn in the UK?
When you begin your foundation training after medical school, you will earn your first salary. A dermatologist's salary (base level) in the UK ranges between £29,384 and £34,012. As a dermatologist in the NHS, you can expect to earn at least £40,257 per year, with the possibility of increasing to between £84,559 and £114,003 as a consultant.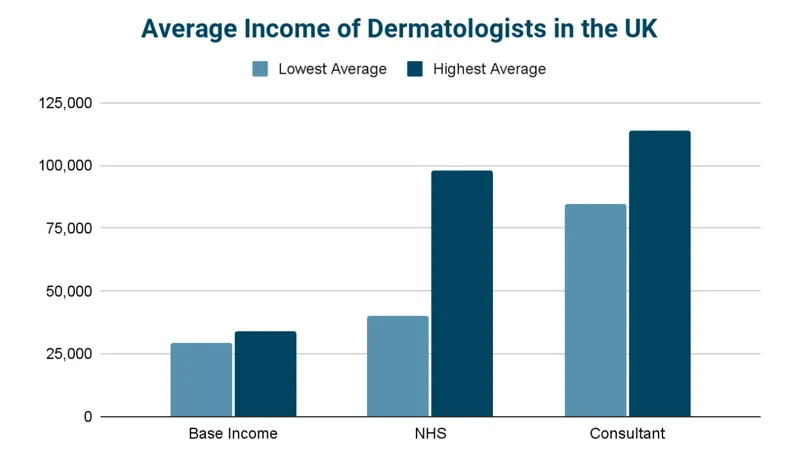 Where do Dermatologists Work?
Dermatologists work in physicians' offices as medical professionals. In examination rooms, they see patients and perform necessary procedures in treatment rooms. In their offices, they use computers and tablets to –
update patient records,
research samples,
and develop treatment plans.
Some dermatologists run their own businesses, while others work for healthcare organisations or hospitals.
Frequently Asked Questions [FAQs]
Do dermatologists do surgery?
Most dermatologists perform minor surgery, such as removing moles or warts or taking skin biopsies. However, few dermatologists focus on more complex surgery. These procedures can include the removal of benign cysts as well as skin cancer.
Is dermatology stressful?
Few skin conditions are fatal, and dermatologists are rarely called to perform high-risk procedures. This can result in a more positive work environment and lower stress levels than in other medical professions.
How many hours does a dermatologist work?
Dermatologists are doctors who diagnose, investigate, treat, and manage skin diseases in children and adults and hair and nail complaints. Typical weekly hours for doctors can range between 42 and 48 hours on average, depending on the demands of the type of business for which you work.
What is the difference between a skin doctor and a dermatologist?
An esthetician, also known as a skincare specialist, provides services to improve your skin's appearance. A dermatologist is a doctor who specialises in skin care. Dermatologists are doctors who are trained to diagnose and treat skin conditions.
Is it worth becoming a dermatologist?
It's a long road, but it can be financially and professionally rewarding, especially when you consider you're helping patients live longer and higher-quality lives. After completing your dermatologist training in the UK, you can pursue a private practice or an academic career.
Where can you study dermatology in the UK?
Cardiff University, the University of Hertfordshire, Queen Mary University, and King's College University are among the best clinical dermatology schools in the UK.
Conclusion
The pathway for Dermatology in the UK is probably more complicated than you expected, huh? However, the rewarding aspects of becoming a dermatologist far outweigh the struggling aspects of this field of study. Hopefully, after going through this write-up on how to become a dermatologist in the UK, you now have a good grasp of what you need to do to succeed in this respectful dermatology career path.
What to Read Next: