Personal Development
How to Become a Personal Assistant
Personal assistants are responsible for assisting their senior staff in handling organisational tasks. They are the most dependable and trustworthy employees as they manage the core tasks like scheduling, arranging meetings, answering phone calls on behalf of their employers.
So, what are the ways to be a successful personal assistant? Read this blog and know how to become a personal assistant, the necessary skill, their duties and many more.
Who is a Personal Assistant?
A personal assistant (PA), also known as a personal secretary, is someone who assists the senior staff in an organisation with their daily administrative tasks. They help the senior staff keep track of their meeting schedules and appointments and help reduce their workload. The head of the department, CEO or any other senior manager might require the support of a PA.
What does a Personal Assistant do?
The role of a personal assistant goes far beyond just working closely with senior staff members and completing any administrative tasks. With experience, a PA is assigned with more duties, ranging from making travel arrangements to event planning.
Here is a list of common responsibilities that a PA will need to complete:
Managing and organising the employer's calendar
Arranging meetings
Receiving calls & responding to emails
Creating reports
Organising business trips
Attending industry events
Greeting and being hospitable to visitors
Do you want to become a personal assistant?
Do you want to become a personal assistant? Now you can take the online 
skill development courses
 like communication skills, time management skills, business skills and much more offered by Lead Academy and learn how to become a confident personal assistant from the comfort of your home.
Where do Personal Assistants Work?
Personal Assistants are more or less required in every field like business, charities, private households, government, public sector and so on.
A few particularly popular sectors for PAs are:
---
What is the Work Environment like for a Personal Assistant?
Personal Assistants work either in an office setting or in the home of their employer. PAs typically need to work up to 40 hours a week in an office setting. However, they might need to answer phone calls and respond to emails during weekends. They also have to travel for work and attend industry events.
---
Some Benefits of Working as a Personal Assistant:
The benefits that a PA enjoys would vary according to the industry they are working for. However, some expected benefits that can be found in most of the working sectors are-
Flexible working hours
The ability to work from home
Free meals
Health insurance
Paid leave
Dental insurance
Gym memberships
Loan forgiveness programs
---
Who can be a Personal Assistant?
Employers usually look for the candidate's interpersonal and communication skills while hiring a personal assistant. It is not necessarily about previous experience and qualifications; rather, what is really important is the right values and skills to do the job.
Anyone can be a personal assistant as long as they:
Have the ability to build a strong relationship with their employer/boss
Able to manage multiple tasks at once
Possess the enthusiasm to work; even on weekends
Able to handle stress
Hospitable towards guests
---
What are the skills required to be a Personal Assistant?
As PAs are the first point of contact of the senior staff, they need to be an expert communicator and be adaptive to any situation. They should also be able to multitask without getting overwhelmed.
Typically, a personal assistant is expected to have-
Being organised is the most crucial skill that a personal assistant would need. PAs need to complete their own task along with helping the seniors with their work, so good organisation skills would allow them to stay focused.
Interpersonal skills:
As a personal assistant, having interpersonal skills is necessary as you have to interact and deal with many people and personalities along with supporting the manager in a range of situations.
Personal assistant positions require communication skills to create partnerships, liaise with many stakeholders and ensure that managers are informed of important information.
Both written and verbal communication skills are required to absorb and articulate the right words.
Multitasking is a skill that all personal assistants must be able to master to deal with all the sudden and scheduled administrative tasks.
A personal assistant has endless duties. Along with providing administrative support, they maintain the diary of their head, deal with scheduling meetings and answer phone calls. Thus, being a multitasker would be a plus point to perform well in this role.
The ability to smartly divide time between activities is a key personal assistant skill. As personal assistants are not just responsible for their own tasks, but also for managing the tasks of their senior managers, they should know how to carry out their duties within time.
---
How to Become a Personal Assistant:
The process of becoming a personal assistant is relatively simple. Take a look at the best way to become a personal assistant.
Obtain the Qualification:
Although there is no specific qualification required to be a personal assistant, a high school diploma is a minimum requirement for most personal assistant positions. Your GED certificate will suffice if you do not have a high school diploma.
If you want to enhance your competence, consider pursuing a Bachelor's Degree in Business Administration and Management. This type of degree will help you gain some soft and hard skills like budgeting and office management that will support your career as a personal assistant.
State your Ideal Role and Company:
Whether you want to be a personal assistant for a real estate agent or want to be a self-employed personal assistant, defining what you want will help you identify and apply for the right roles for you. Research different sectors and decide which one aligns with your interest best.
Update your CV
A well-written CV will help you to get your desired role. While preparing your CV, be sure to include the following:
Summary of your skills
Education and degrees
Think about what makes you different and mention that in your CV
Understand the role before applying:
Before applying for the PA job, go through the job description carefully so that you can be aware of the duties you would be asked to perform. If there is anything you feel that has been asked to perform outside your job role, it's better to have a conversation with your employer and clarify during the interview or before joining.
Apply for the Post:
Once you have prepared your CV and obtained the necessary qualification, you can now begin applying for jobs as a personal assistant. If you are a fresher, do not lose hope while looking for jobs. Continue applying until you find a position that best suits your skills and interests.
---
What is the Pay of a Personal Assistant?
The salary of Personal Assistants in the UK typically ranges from £19k-£38k. According to Payscale, "The average salary for a Personal Assistant is £26,414." 
The pay of a personal assistant also varies according to the experience level. As Payscale suggests, "An entry-level Personal Assistant with less than 1 year experience can expect to earn an average total compensation (includes tips, bonus, and overtime pay) of £22,861."  
"An early career Personal Assistant with 1-4 years of experience earns an average total compensation of £24,890."
"A mid-career Personal Assistant with 5-9 years of experience earns an average total compensation of £27,974. An experienced Personal Assistant with 10-19 years of experience earns an average total compensation of £28,707." 
The salary range of PAs might differ according to regions as well. As per totaljobs, "The average salary of a PA is £37,500 in the City of London, £29,000 in Birmingham and £22,492 in Bristol."
Top Courses of this Category
Career opportunities of a Personal Assistant:
The experience you gather and the skills you earn on the job are highly transferable, so you can shift into different roles and companies, grabbing the best possible opportunities.
Career opportunities for personal assistants may include:
Responsibility for managing a small administration team.
The opportunity of working for a more senior manager.
Working for several managers.
Managing a junior assistant.
Moving into another department.
---
How to be a Good Personal Assistant:

Personal assistants are an indispensable part of any organisation. If you want to know how to excel as a personal assistant, follow the tips below:
Set priorities
A personal assistant's large part of the job comprises keeping the head informed, organised and on schedule. So, a PA must be well-organised. You can use checklists to keep track of your workload and tick off each point once complete. This will provide a clear overview of what needs to be done and how much time is left to get the work done.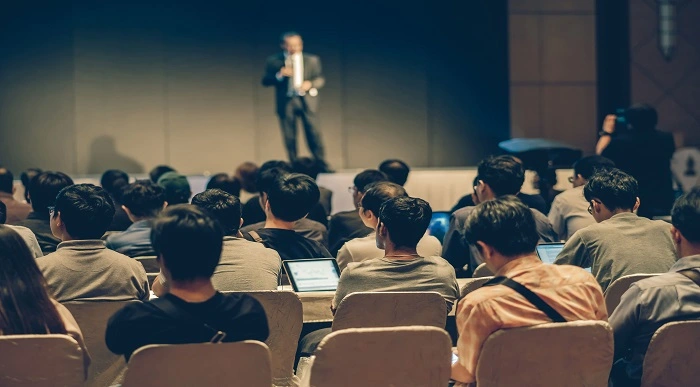 Public Speaking & Presentation Skills Course Online
Accredited Courses
Tutor Support Included
3 Installment Plan at checkout
14 Days Money Back Guarantee
Know your boss and the role he plays in the business
A good personal assistant understands their boss's numerous tasks and how they fit into the business's overall scope. Learning about the business's objectives and goals will help a PA acknowledge the importance of specific tasks.
Also, it is important to know your boss's personality and working style. Make sure to brief them ahead of meetings and events fully. Attend the calls on behalf of them so that they can focus on their tasks.
Stay updated
Make sure you are always informed and up-to-date on all topics relating to our boss's projects. Try to remain prepared for all meetings in advance. You must know your boss's job and how it benefits the organisation to assist them better. It is equally important to have a good understanding of the company as a whole.
Avoid procrastination
Your workloads as a PA can become unmanageable at times. You might not feel like working with the same enthusiasm every day. However, it's essential to stay on track to ensure you meet all your deadlines. Create a priority list and put the important tasks in your agenda as if they were meetings. Pull out all the stops to finish your work within time.
Improve your skills
You cannot expect to grow in your career if you are not willing to continue learning. Always keep looking for ways to learn new things and update your skills. Observe your boss and ask them about the ways to improve yourself. You should also attend relevant industry events so that you can network and learn from others in your field.
---
Conclusion:
The need for personal assistants is everywhere, right from CEOs to celebrities. This job demands you to be patient and energetic since you have to play multiple roles here. The blog provides every detail about how to become a personal assistant, which you can follow as a guide while applying for this position.
---
What to Read Next: