Health and Social Care
Why do You Want to be a Nurse – Answer and Interview Question
Nursing is not a profession for everyone. But in the midst of it all, children are born, people are saved, and even the medical professionals and their patients create lifelong relationships.
So, why do you want to be a nurse? You can kickstart your career as a nurse because this is a rewarding profession, and it has several aspects and is essential to the medical industry.
And what's better? We need nurses now more than ever!
This article offers an overview of the interview questions for a nurse along with their answers. Take a look at this article to learn more about the reasons to become a nurse.
What is the Importance of Nurse?
Even though nursing is one of the oldest and most well-known professions, there are still some misconceptions about this growing field in the general public.
Many people believe that nursing is only a career for women, which is not true, and many are confused regarding why nursing is important.
The true heroes of the healthcare system are nurses. Over 90% of the world's healthcare is provided by them, however, they are not recognized when it is a chance to express gratitude to our medical professionals.
Here are some reasons why is nurse important and necessary.
1. A Challenging Job
Not everyone is able to perform the emotional work that nurses do. From newborn babies to those who are close to passing away, they handle all types of people.
2. Physical Process
Nurses help their patients with their physiological processes in order to help them with their problems.
3. Death
Every day nurses give outstanding and respectful end-of-life care to patients who are ill.
4. Long workdays
To help and comfort their team, nurses put through insanely long shifts.
5. Support
Anyone who has needed long-term treatment for a problem is aware that nurses are often the strongest supporters.
Are you looking for a Basic Life Support Online Training Course?
If you are looking for a Basic Life Support Online Training Course that will equip you with the knowledge and abilities necessary to assist people in life-threatening emergencies such as cardiac arrest, then look no further. We've got a course for you that will introduce you to the primary and secondary surveys, recovery positions, and other relevant topics that can help you provide basic life support.
Why Do You Want to Be a Nurse?
At least one thing that defines all nurses is their desire to help people.
The following information can help you to understand why you should kick-start your career in this profession.
Different Types of Nurses
Below, you can learn about some of the various types of nurses you may become. Consider these job options as you start your educational journey.
Advanced Practice Registered Nurse (APRN)
Patients in need are treated and identified by APRNs, who may also suggest medicines.
Critical Care Nurse
Registered nurses who serve in intensive care units are known as critical care nurses.
Family Nurse Practitioner
Family nurse practitioners, or FNPs, serve as the patients' primary caregivers.
Home Health Nurse
Home health nurses are often qualified nurses who do their duties onsite at patients' homes.
Military Nurse
To care for ill and injured soldiers as well as other military personnel, the military is always in need of nurses.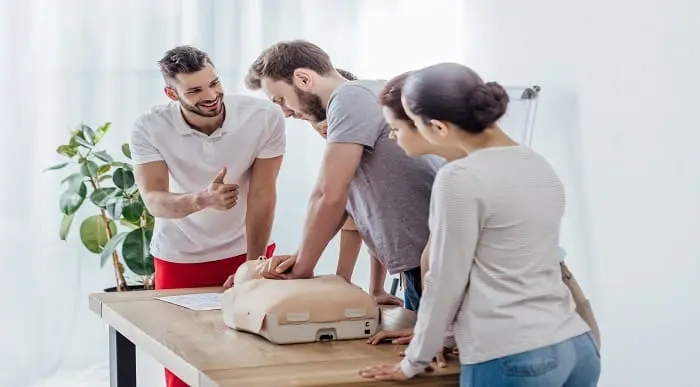 Basic Life Support Online Training Course
Accredited Courses
Tutor Support Included
3 Installment Plan at checkout
14 Days Money Back Guarantee
Why Nursing is a Noble Profession?
Nursing is a noble profession as it requires a strong commitment to the cause of people as well as a great deal of tolerance.
The nursing profession is both historic and renowned. The work of a nurse has always been important, and it is symbolic of great philanthropists like Mother Teresa, who dedicated her entire life to serving others and was awarded the Nobel Prize, and Florence Nightingale, who was known as "the lady with the lamp."
Steps to Becoming a Skilled Nurse
The following skills are crucial to entering this field of work:
1. Choose the Type of Nurse you Want to be
There are many areas you can work in to become a skilled nursing professional.
Hospitals
Medical facilities
In-home medical care
Hospitals and nursing homes
2. Identify the Required Education
As you probably already know, earning a Bachelor of Science in Nursing (BSN) can help nursing candidates in getting their certification.
If you want to explore more advanced roles, there are other educational options you can choose.
To become an APRN, you must have a Master of Science in Nursing (MSN), and many MSN programmes even offer concentrations in areas of advanced practice including midwifery and women's health.
3. Finish the Nursing Programme
When you are accepted into a nursing programme, you may expect to start your training right away and study the basics of the industry.
Assignments may cover anything from learning illnesses and drugs to interacting with patients. You'll also have clinical field experience toward your degree.
4. Obtain Employment
You're almost there if you have your qualifications and licence; all you need now is a job.
You might start your employment search by searching for local positions on well-known job boards or by contacting primary healthcare websites to ask about possibilities.
5. Continue to advance your career
You can improve your career in nursing by continuing to study and develop. Ongoing education may help you stand out and get the job you want as the need for nurses increases.
The "Doctor of Nursing Practice (DNP)" degree is one way to advance your professional career.
With this degree, you can move into a bigger-picture position and have an impact on health care organisations' policies.
Scenario Interview Questions for Nurses
In your job interview, you must describe your response to scenario-based questions in order to show how you would act in that situation.
An interviewer may ask one of two scenario-based questions:
The focus of behavioural questions is on actions you have already taken.
For example, "Can you give me a view of the way that you communicate with patients who have difficulty understanding what you want them to do?".
For example, "What would you do if the patient you were caring for couldn't understand what you were explaining about the type of treatment that she was about to receive?"
Asks you to put yourself in situations that you may never have faced before.
Develop Your Team to Lead The Industry
Get fully accredited thousands of high quality online courses taught by the world's leading experts suitable to companies of all sizes.
Aged Care Interview Question and Answer
To help you in preparing your responses, the following are some typical elder care worker interview questions and answers:
1. Why do you think you'll be successful in this position?
Example answer: I have great interpersonal skills and I am a caring and entertaining person.
Also, I have a lot of experience managing clients' personal care needs and offering them company as needed.
2. How would you behave to a patient who seemed stressed?
Example answer: This question may be used by interviewers to judge your sensitivity.
Consider your attitude to the situation and what you could do to bring about a favourable conclusion when you are answering questions.
3. What do you think has been the most difficult aspect of your nursing career?
Example answer: The hardest part of my job as a nurse, in my opinion, is seeing patients die after receiving the best care possible.
Nursing Degree Interview Questions
At your nursing degree interview, you may well be asked a number of questions, so we've created a full list of the most common questions here:
Introduce yourself.
Explain your personal statement to us.
What have you done to prepare yourself for a career in nursing?
Do nurses perform any other tasks other than providing patient care?
Nursing Interview Tips
The following simple tips can help you get ready for your nursing interview.
Do your research on the company.
Prepare specific questions about the position.
Be familiar with your medicines and practice care situations.
Match your nursing experience and talents to the position.
Top Courses of this Category
15 Interview Questions and Answers For Nurse
Here's a guide to help you master your next job interview, including some essential nursing interview questions and answers.
1. Tell us about a disagreement you had with a group of people. What was the conflict specifically, and how did you respond to it?
Example answer: I was assigned a difficult group assignment in a physiology course during my final semester of the nursing program.
A member of our team wasn't performing to expectations. In a group meeting, we re-established roles and deadlines to resolve the conflict.
2. Have you decided which shift you may want to work?
Example answer: I believe that I would feel at ease working any shift. I would, however, enjoy the opportunity to work busy shifts as a new nurse.
3. Describe a time when your workload absolutely overtook you. How did you respond to such a situation?
Example answer: I regularly felt stressed with work in college due to the education that goes along with a nursing degree.
In this situation, I thought it would be best to create a schedule for myself to try to manage all the work I had to complete.
4. What are the best qualities you have?
Example answer: I believe that being kind, hardworking, and dedicated are some of my best qualities.
5. Why did you choose this profession?
Example answer: I want to have the chance to work as a nursing supervisor, manager, or shift leader after five years in the field.
I felt your job sounded like a fantastic fit when I saw it mentioned the opportunity to head a small team in clinical areas.
6. What would you say about your former boss?
Example answer: My previous boss taught me the value of work and time management, which is my top responsibility as a nurse, at the hospital where I worked.
7. If you are hired, will this be your only job?
Example answer: Yes, this will be my only job. While I'm excited to start my nursing profession, I also don't want to work extra hours.
8. What inspires your decision to leave your current job?
Example answer: Because the job posting mentioned the chance to work in a great environment, I was motivated to apply for the position.
9. It can be challenging to be a nurse. How do you deal with stress in your daily life?
Example answer: I've been doing breathing exercises and meditation for the past couple of years.
It has proven to be highly helpful in lowering stress.
10. What sources did you use to know about this position?
Example answer: I heard about your company's potential need for a few extra nurses from a friend at church.
He praised the organisation and the level of care he and his family have seen over the years.
11. What do you enjoy doing when you have free time?
Example answer: I have a lot of interests. In my free time, I enjoy reading books and watching movies.
12. Why do you believe you are the ideal candidate for this position?
Example answer: After studying the job description I am confident that I can execute in his role.
I am a hard worker and feel dedicated to learning and growing as a nurse.
13. What response would you have if your replacement failed to arrive for work?
Example answer: If my replacement has not arrived, then I'd first inform my supervisor.
They can then confirm my coworker's safety in this way.
14. Are you available on the weekends and during the night?
Example answer: Like most people, I appreciate having some evenings or weekends to spend doing activities I like.
But I'm prepared to put in extra hours over the weekend.
15. What part of nursing gives you the most satisfaction?
Example answer: I think becoming a nurse has a lot of rewarding aspects.
The satisfaction of knowing that I changed someone else's life is maybe the most rewarding experience.
FAQ
Why would people want to become a nurse?
The reason to enter this profession is that it is a satisfying profession that offers many opportunities for safety, promotion, and income.
What does being a nurse mean to you?
It means responding to people's needs and protecting them from danger.
What are the good things about being a nurse?
The good thing about them is that they actively promote health in society today, which is a crucial role for them to perform.
What makes a good nurse?
A good nurse should be caring and want to help others.
What can I contribute to nursing?
By supporting the promotion of health, you can contribute to today's society.
What inspired you to nurse?
Helping and caring for people is what inspires a person to follow this career.
How to answer "Why did you choose nursing as a career?"
You can simply say that the reason I picked this career is so that I can advocate for health promotion.
What the interviewer really wants to know?
How qualified and motivated you are to perform in this role is something an employer wants to hear.
What not to say in an interview?
No matter how awful a job was, you should never, ever criticise a previous employer in an interview.
What is the best answer for "Why do you want to be a nurse?
The be
Conclusion
The most successful careers are those in the healthcare industry. Hospital nurses provide medical treatment for patients. An excellent career that allows you to do what you love while also helping others is called nursing. It's also a demanding career with lots of chances for professional and personal growth.
I hope this article has given you a better understanding of why you want to be a nurse.
st answer would be I want to be a nurse because at least one thing that defines all nurses is their desire to help people.
What to Read Next: