Counselling & Psychology
How to Become a School Counsellor – 8 Essential Steps to Follow
School counsellors are gradually becoming an important personage these days in schools at all levels. The school counsellors primarily remain responsible for working closely with students. They help students to gain academic and personal success.
The necessity of the school counsellors has also been recognised by the UK government. The UK government has been told to ensure the access to school counsellors by all young people to tackle an "epidemic" in self-harm, as reported by BBC.
If you are someone who wants to pursue a career as a school counsellor, you are at the right place! Reading this blog would let you know how to become a school counsellor, what are the responsibilities of a school counsellor, their salary range and other necessary details about this profession.
What is a School Counsellor?
A school counsellor is a professional who works with students at all levels, from elementary school to secondary, to maximise student success and promote access and equity for all students.
A school counsellor's first and foremost duty is to  listen to students' concerns. Moreover, they may help students with issues such as bullying, disabilities, low self-esteem, poor academic performance and relationship troubles.
Evaluating students' abilities, interests and personalities to help them develop realistic academic and career goals is also a part of the job. School counsellors facilitate aptitude tests and formulate potential paths to success.

Are you looking for Counselling course?
Are you the one interested in kickstarting your career as a Counselling Psychologist? All you need is the comprehensive 

counselling online course

 of Lead Academy. Join the course today at a discounted price and take a step towards a rewarding career. Enrol now!
What does a School Counsellor do?
School counsellors responsibilities are many, ranging from providing emotional support to guiding for the right career path. Typically, a school counsellor does the following:
Help students create a plan to meet their academic and career goals
Conduct aptitude tests and interviews to assess students' abilities and interests
Facilitate the students struggling with behavioural problems through counselling
Enlighten students by providing information about their social and emotional needs
Aid students to develop effective study habits
Collaborate with teachers, administrators, and parents to help students succeed
Deliver classroom lessons on topics such as bullying and drug abuse
Make referrals for additional assistance or counselling outside the school
---
Types of School Counsellors:
The common goal of all the school counsellors is to help their students thrive, but their responsibilities differ according to the level of education in which they work. Learn more about the different types of school counsellors and what they are responsible for.
Elementary School Counsellors
Elementary school is considered as the crucial intellectual, mental and emotional developmental period in the human lifespan. Children usually develop a strong self-concept at this stage. They also learn how to interact with others like friends and teachers.
This is also an age where various issues such as learning difficulties, family issues and challenges with social skills become clear. An elementary school counsellor helps students with these challenges by providing support and instruction where appropriate.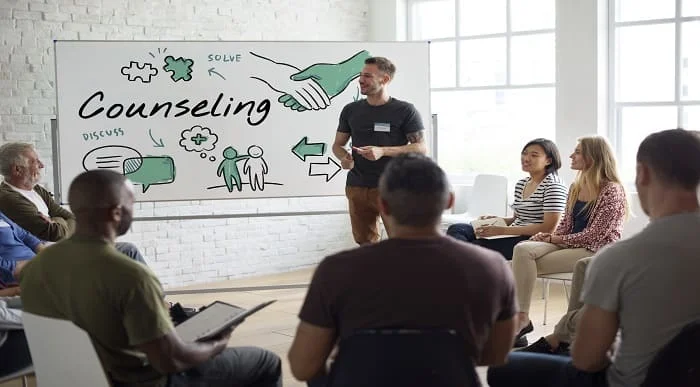 Counselling and Psychology Courses Online Complete Bundle
Accredited Courses
Tutor Support Included
3 Installment Plan at checkout
14 Days Money Back Guarantee
Secondary School Counsellors
High school is a challenging phase for most teenagers. Students are still establishing their identities, and generally place more importance on the feedback of their peers rather than their family members or authority figures. In addition, they face academic pressures and struggle to make certain life decisions.
Secondary school counsellors aid students develop their educational and postsecondary plans. They work with teachers, parents and other staff members on any developmental or learning issues.
They also counsel individual students and groups with personal problems or issues. Overall,  a secondary school counsellor helps high school students to become responsible, productive and fulfilled individuals and citizens.
School Counselling Coordinators and Directors
School counsellor coordinators and directors manage school counselling programs at the district and state levels. They create and implement a comprehensive school counselling plan working with other school counsellors, educators, parents, teachers, student groups, and school administrators.
To assess progress toward the goals, school counselling directors review and analyse student data and outcomes and amend or alter the counselling plan. Thus they ensure that school counsellors are meeting the student's needs.
School counsellor directors may also design calendars and communication plans.

Top Courses of this Category
What are the Reasons to Become a School Counsellor?
The job of a school counsellor is a very fulfilling one. If you are thinking of stepping into this rewarding career lately, know why you should be a school counsellor from the points mentioned below-
Opportunity to do meaningful work
The job of a school counsellor enables you to earn a living while helping students overcome developmental, personal and social problems. A counsellor's main focus is helping students reach their full potential and by doing so, they encourage them to pursue their passions and improve their weaknesses.
Diversity in responsibilities
A school counsellor's responsibilities are not confined to some limited tasks; they have busy schedules with diverse responsibilities, which is why their profession is an exciting one.
One day you might counsel a student individually, and another day you might help the school administration to develop activities to enhance students' performances.
You might also participate in community outreach programs outside the school premises to learn more about the students' home environments.
Ability to ensure a safe space for students
School counsellors create a safe space for students where they can share their concerns freely. Without the fear of being judged, they can discuss their issues with their counsellor.
Young students often go through emotional turmoil resulting in self-harm injuries. Baroness Walmsley, a member of the House of Lords said that, "School counsellors can be a very valuable resource in helping to tackle this terrible epidemic of emotional distress amongst young people, because they are non-stigmatising and easily accessible."    
By offering an anonymous reporting system, counsellors ensure confidentiality. That is why any student, who is in need of help but unable to share the issues with anyone, can open up to the counsellor with trust.
Pleasant working environment
A school counsellor primarily deals with students which means, they mostly work in public or private schools. Besides, they also work with teachers, staff members and also with parents of the children.
School counsellors may have small or large offices in strategic locations in the school. In some cases, primary school counsellors use the classroom as an office.
The counselling is usually conducted in a safe, private and welcoming environment. Since the school counsellors mostly work in an academic setting, the work environment is comparatively safe and the working hours are convenient.
Flexible working hours
School counsellors have the liberty to enjoy autonomy over their work. Many educational institutions allow counsellors to arrange their day as they like and meet with students when they want.
School counsellors also have flexible work schedules since they rarely work on weekends or during holidays and breaks. They usually have summers off when school is not in session.
Job growth
According to the Bureau of Labor Statistics, "Employment of school and career counsellors and advisors is projected to grow 11 percent from 2020 to 2030, faster than the average for all occupations."
The need for school counsellors would always be in demand, meaning that they would have job stability while advancing their career. Even if the market gets competitive, you can pursue higher degrees like a doctoral degree in clinical psychology and go on to become a school psychologist.
This will allow you to go further with diagnosis and treatment of mental health issues and will broaden your employment opportunities including academic research, consulting and more.
While working as a school counsellor, you can also expand your expertise and improve your counselling skills by doing online courses like Professional Psychotherapist and Counsellor Training Course and increase your job opportunities.
Job Satisfaction
Due to the low stress level and work flexibility, school counsellors usually have a higher level of job satisfaction. Also, with their counselling skills, they can contribute in different tasks; whether it's an administrative task or teaching students on topics like abuse, bullying and so on. That's why there is hardly any boredom while serving as a school counsellor.
What are the Qualities required to be a School Counsellor?
To be a successful school counsellor, you must possess some noteworthy qualities which are-
Communication and interpersonal skills
Problem-solving skills
Active listening skills
Time management skills
Non-judgmental attitude
Empathy
Patience
---
How to become a School Counsellor in UK:
If you are interested in becoming a school counsellor, follow the steps mentioned below.
Know about the Profession
To make sure that this career path is right for you, you will need to research and have a good understanding of what the school counselling job entails, what are the school counsellor qualifications, the type of salary you can earn and what your working environment will be like.
If all the criteria matches with your expectation, you might proceed to gain the required training and qualifications. 
The most important step to becoming a school counsellor is to earn a bachelor's degree. You can complete your bachelor's in counselling, psychology, or any other relevant subject.
However, you can have a degree in almost any subject like business, economics, philosophy and still become a counsellor. 
Pursue your Master's Degree
After you earn a bachelor's degree, the next step in becoming a school counsellor is to earn a master's degree. Look for a master's degree programme in school counselling or a closely related subject with adequate coursework to fulfil the state requirements.
You will be required to complete an internship as a part of your master's degree programme. You will be placed in a district of your choice and mentored by the current school counsellor. They will guide you throughout your internship and help you develop the essential skills you need to be successful at the job.
To successfully land a job as a school counsellor, you will need to ensure that your application grabs the attention of the hiring manager.
This means that you will need to prepare a professional CV that highlights all your skills, qualifications, experience and passion. Make sure to read the job description and requirements before you apply. Do attach a well-structured cover letter when sending your application.
Prepare yourself for the Interview
Interviewing for any job is stressful, so it is better to prepare a few answers to common interview questions beforehand.
The questions might include:
What is the role of the school counsellor in relation to teachers, parents, administrators and other counsellors?
Why do you want  to be a school counsellor?
How do you see the word 'leader' fitting into your role as a counsellor?
Why do you want to work at this particular school?
Apply for your First Job
Once you are done with your internship, start applying directly to open positions on various job boards. You can look for the school counsellor jobs in the following sites of UK-
British Association for Counselling & Psychotherapy (BACP)
Indeed
JobisJob
Adzuna
Advance your Career
School counsellors typically work at elementary or secondary level in schools; however, if you want to advance in your career, you can proceed to gain your PhD in psychology to work as a school psychologist.
Additionally, you can also work in healthcare, private clinics or offer your personal services online via video chat.
---
How much does a School Counsellor Earn?
The salary range of school counsellors depends on a number of factors like location, experience level, their work position and so on.
As per talent.com, "The average salary of a  school counsellor in the United Kingdom is £27,225 per year or £13.96 per hour. Entry level positions start at £22,764 per year while most experienced workers make up to £33,403 per year."
An entry-level School Counsellor with less than 1 year experience can expect to earn an average total compensation of £20,741. An early career School Counsellor with 1-4 years of experience earns an average total compensation of £21,684.
A mid-career School Counsellor with 5-9 years of experience earns an average total compensation of £21,892. Finally, an experienced School Counsellor with 10-19 years of experience earns an average total compensation of £28,182 as reported by the payscale.
School counsellors' salary, as mentioned above, also varies according to location. The highest paying city of the United Kingdom is Dalkeith where the salary range of a school counsellor is £31,267. Other cities are Edinburgh with the salary range of £28,942, Stirling with £26,000 and Leeds with £24,706.
---
Difference between a School Counsellor and other Similar Careers:
Many people often confuse the school counselling role with other career paths, but it is a distinct occupation with its own duties.
School Counsellor vs Counsellor
The difference between school counsellors and counsellors is that counsellors generally work with individuals, families, and groups assisting them with specific emotional, behavioural, and psychiatric issues.
School counsellors, on the other hand, do work with individuals and groups, but their main focus is on the students' academic and developmental needs; improving academic outcomes, career guidance and more.
School Counsellor vs Guidance Counsellor
Guidance counsellors have a limited role in the lives of students, as compared to school counsellors. They provide guidance in post-graduation planning and vocational opportunities. Guidance counsellors generally work in isolation and do not have to plan a guidance curriculum that accommodates students with specific needs.
On the contrary, school counsellors take a far more comprehensive approach to student success. School counselling covers vocational assessments and training; explores aspects of the social, emotional, behavioural and mental wellness of students to ensure academic success.
School counsellors are trained to assist students from applying to college to connecting students with resources that may help them cope with traumatic life events or crises.
School Counsellor vs School Social Worker
School social workers focus more on a student's family life than school counsellors do. School counsellors may become aware of the issues of a student's life and help connect the student's family to resources – resources that include the school social worker.
The social worker might act as a case manager, helping students access benefits, therapy, and other programs to make their family life stable.
---
Conclusion:
The job of a school counsellor is a fulfilling one as it provides the opportunity to be involved in the growth and prosperity of students. As these students hold the future of a nation, they need proper guidance at their developmental stage which can be ensured by school counsellors only.
You can also be a part of this rewarding career by earning the required qualification, undergoing school counsellor training and if you are empathetic, patient and calm in nature.
---
What to Read Next: