Counselling & Psychology
How to Become a Counselling Psychologist
How to become a counselling psychologist? To become a counselling psychologist, you must first complete an approved doctoral programme (practitioner doctoral degree) in psychology. For this, you should, however, first seek a comparable bachelor's degree, followed by a master's degree.
Counselling Psychologists are rigorously approached for their expertise in managing complex mental health and relationship issues. Finding resources to cope with everyday problems and adversity are also some of the tasks associated with Counselling Psychologists. Further, his profession aims at helping people to lead a healthy life by developing different strategies.
Consequently, different statistics claim, the demand for counselling psychologists is gradually increasing. According to The Recruiter, "Demand for Counseling Psychologists is expected to go up, with an expected 65,380 new jobs filled by 2029."  To sum up, with the right qualification and enthusiasm to help people, counselling psychologists can thrive in their respective fields.
Further, learn from this blog about the educational and licensing requirements, and the daily duties and skills required for this role to help you decide if this is the profession you would like to pursue.
Who is a Counselling Psychologist?
A counselling psychologist is a mental health professional who provides diagnosis and psychotherapy for a wide range of mental health problems such as stress, anxiety, depression, behavioural disorders and so on.
The job of counselling psychologists is to work with individuals, couples, families, and groups to give them adequate support, consultations, and treatment so that they can live much better and healthier life.
Are you looking for Counselling course?
Are you the one interested in kickstarting your career as a Counselling Psychologist? All you need is the comprehensive counselling online course of Lead Academy. Join the course today at a discounted price and take a step towards a rewarding career. Enrol now!
What are the Issues that Counselling Psychologists deal with?
A counselling psychologist is responsible for assisting their clients in dealing with different issues, which may include:
Personality disorders
Physical and mental abuse
Anxiety
Depression
Trauma
Relationship problems
Workplace stress
Domestic violence
Eating disorders
Addictions
---
What does a Counselling Psychologist do?
Counselling psychologists aid their patients to maintain healthy personal and interpersonal relationships by providing individualised care. Some specific job duties of a counselling psychologist are-
Assessment: 
After meeting a client, counselling psychologists typically assess the client to identify potential issues. During this process, counselling psychologists take case histories to understand and identify the client's reason for seeking treatment. All the biological, psychological, physical and social issues are taken into consideration while assessing a patient.
Treatment Planning:
A counselling psychologist formulates a treatment plan based on the results of the assessment. The psychologist tries to come up with the best method of treatment to address the client's issues and then discuss it with the client. They then decide on specific solutions related to treatment, like scheduling and other concrete concerns.
Providing Psychotherapy:
Providing psychotherapy is one of the main responsibilities of a counselling psychologist. Psychotherapy is basically a broad term used to describe different methods of talk therapy. In addition, some common psychotherapies include cognitive therapy, behaviour therapy, couple and family therapy and group therapy.  Further, psychologists provide therapies according to the client's needs.
Consulting:
Sometimes counselling psychologists need to consult with other physicians, psychiatrists and social service provider organisations to gain a broader understanding of their client's problem. Additionally, this might require them to discuss their treatment recommendations and the client's progress in therapy with other physicians.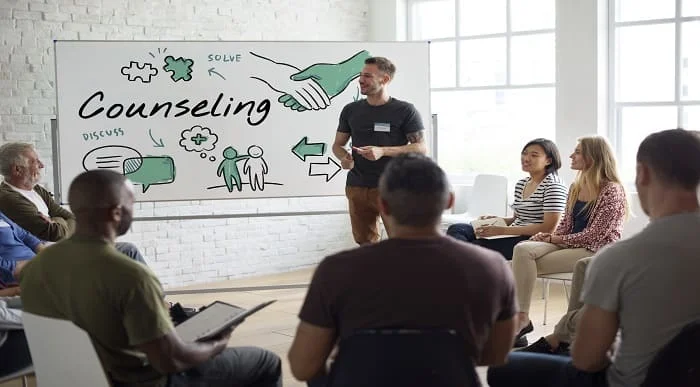 Counselling and Psychology Courses Online Complete Bundle
Accredited Courses
Tutor Support Included
3 Installment Plan at checkout
14 Days Money Back Guarantee
Where do Counselling Psychologists Work?
Counselling psychologists have the opportunity of working in several fields ranging from healthcare to the academic sector. Below is a list of domains where psychologists can work.
Hospitals
Nursing homes
Mental health clinics
Rehabilitation centres
Private practices
Education and Research
Business and Industrial organisations
---
What are the Skills Required to be a Counselling Psychologist?
Some common skills for a counselling psychologist may include:
Attention to detail
A non-judgmental attitude and approach
An understanding of confidentiality
Resilience
Patience
Curiosity
Empathy
Listening skills
Verbal and written communication skills
An ability to establish rapport with people from all backgrounds
Time management
---
How to Become a Counselling Psychologist:
You need to complete an accredited doctoral program (practitioner doctoral degree) in the field of psychology to become a counselling psychologist. However, you should first pursue a related bachelor's degree followed by a master's degree. Follow the steps below to kickstart your journey of becoming a counselling psychologist.
Complete your Bachelor's Degree:
The first step to becoming a counselling psychologist is to earn a bachelor's degree in the relevant field. This degree will build the foundational knowledge that you will need for a successful graduate experience.
The potential areas of study to be a counselling psychologist are Bachelor of Science in Psychology, Sociology or Anthropology. Other possibilities include studying education or counselling.
Earning a master's degree would qualify you to work as a licensed counselling psychologist. This would enable you to spend time working in the field and gaining experience interacting with actual patients, which would be further helpful in a doctoral program.
Enrol in a Doctoral Program:
You will need to achieve a doctoral degree in Counselling Psychology that the Care Professions Council HCPC has approved if you are living in the UK. Some students receive a master's degree before entering a doctorate course, but students can also bypass the master's program and go straight from their undergraduate degree to a doctoral degree program. 
Candidates typically need to complete an internship as well as one or two years of post-degree experience before applying for a psychologist license. Candidates for licensure should plan to complete an internship during their graduate study.
You need to obtain a license; otherwise, most states will not allow you to practice or accept health insurance from clients. A valid state license proves that you have met the qualification standards to be a counselling psychologist.

Top Courses of this Category
What is the Salary Range of a Counselling Psychologist?
As per Prospects, "The salary of a counselling psychologist typically ranges from £37,570 to £43,772  Senior psychologist roles can rise to between £44,606 and £50,819."
"Counselling psychologists with significant experience and responsibility in the roles of principal or consultant psychologist can reach salaries of £61,777 to £86,687."
---
Employment Opportunities for Counselling Psychologists:
Counselling psychologists, in addition to working at mental health centres, psychiatric hospitals, counselling centres and medical schools work in academic settings and some also practice privately. According to Careers In Psychology, "About 21% of counselling psychologists work in private practices while 34% of counselling psychologists work in academia."
Along with providing psychotherapy, there are other available career paths in various settings that a counselling psychologist may follow, such as:
Providing relationship counselling to newlyweds or couples experiencing communication issues
Offering vocational counselling to help clients choose a profession, cope with workplace conflict, or adjust to a new job environment.
Administering personality tests for large business organisations seeking new employees.
Treating patients in a clinic that deals with addiction, such as smoking and drugs.
Counselling students of colleges and universities to help them cope with personal issues that may affect their daily life and studies.
Conducting research on various issues that can affect the success of psychological treatment methods.
---
How to Increase Desirability as a Job Candidate?
Apart from your academic qualifications and experiences, you should work on some other aspects to be an eligible candidate, which are-
Update your Curriculum Vitae:
Updating your CV would demonstrate your desire and effort to a potential employer. Your CV should contain your educational background, work experience, research experience, published works, and any other relevant experience.
Attend Educational Events:
Educational events are the key sources for networking with professionals to present your potential. You can also visit relevant conferences and actively take part in discussions. Furthermore, attending and pursuing additional online training would add experience and enrich your CV.
---
Is Becoming a Counselling Psychologist Hard?
It requires a significant amount of time, dedication, effort, and intellect to not just learn but also acquires excellent counselling abilities. However, it's not hard. Subsequently, you just need dedication.
The reason you need a lot of dedication is that today's counsellor has several hurdles, not only in terms of the range of problems they address but also in terms of ethics, legality, confidentiality, and multicultural and religious concerns. There are also a variety of counselling ideas and practices. To stay up with growing developments, you must also be devoted to lifelong learning. Further, to put it simply, you will never stop studying or learning.
---
How to Gain Experience as a Counselling Psychologist?
Before starting to work as a professional counselling psychologist, you can gather some working experience while studying or after graduation. Have a look at the working options that you would have.
Look for an apprenticeship:
Work experience is a crucial part of the counselling psychology career. While some colleges and universities have placements built into their course framework, online students must find placement opportunities themselves.
Apprenticeship provides an opportunity to observe the sessions with clients and observe the role of other counselling psychologists. You will also take on some responsibilities that would be the first step to working as a professional counselling psychologist.
Work as a Volunteer:
You can serve as a volunteer in mental health charities. Volunteering can be about listening to clients, offering reassurance, or directing professional help to anyone feeling negative, overwhelmed, or suicidal.
However, volunteering does not let you give professional advice. However, it provides a chance to learn to talk to people about the kinds of problems raised in counselling situations.
Check out our other blog, "What is Pre-Marriage Counselling?"
Join a counselling psychologist association
You can look for a counselling psychologists' association and register to achieve certain criteria for training and learn about ethics to gain professional recognition in counselling psychology. Registering in such an association would enable you to create a public profile that will verify your qualification status. From here, you can have access to connections with other qualified counsellors, which are ideal for finding unpaid training and placement opportunities.
Clinical Psychology Vs Counselling Psychology:
While both are advocates of the well-being of mental health, there remains a slight difference between clinical and counselling psychologists.
Clinical psychology typically focuses on patients having severe mental health disorders or displaying severe psychopathologies such as anxiety disorders, depressive disorders, or personality disorders. In addition, they work to diagnose and treat these disorders and often conduct research as a part of their practice. Clinical psychologists tend to approach mental illness from a medical perspective and often coordinate with psychiatrists or other healthcare providers to prescribe medications as appropriate.
Counselling psychology, on the other hand, focuses on less severe symptoms like everyday stresses related to work, education, family or interpersonal relationships. Further, Counselling psychologists tend to take a general approach that encompasses a range of psychotherapeutic techniques.
The major difference is that while clinical psychologists mostly rely on providing medication, counselling psychologists treat their patients through talk therapy. Counselling psychology places a greater emphasis on patients' overall well-being, that is, the tools and frameworks necessary to lead happier and more fulfilling lives.
---
FAQ:
What courses are required to earn a doctoral degree in psychology?
To obtain a PhD in psychology, you must first complete your bachelor's degree. While an undergraduate degree in psychology is advantageous, candidates with bachelor's degrees in other fields can also apply to psychology PhD programmes. Some students pursue a master's degree in psychology, while many doctoral programmes do not.
What is the Difference Between Clinical and Counselling Psychologists?
Clinical psychology is concerned with psychopathology, or the study of mental illnesses and mental health conditions. Counselling psychologists, on the other hand, assist patients or clients in dealing with emotional, social, and physical difficulties in their life.
What courses are required to earn a master's degree in psychology?
Statistics, experimental methods, and developmental psychology are just a few of the courses that most psychology graduate programmes need. Before applying to a master's programme, you may be required to take the Graduate Record Examination, often known as the GRE.
How Counselling Psychologists are Different from Psychiatrists?
Most psychiatrists treat patients primarily through medicine, whereas psychologists typically treat patients through discussion and/or behavioural treatment.
What is the career outlook for Counselling Psychologists?
Although being a counselling psychologist is a very competitive area to train in, with many years of study necessary, it is an extremely gratifying career path to pursue.
What are the job duties of a Counselling Psychologists?
Counselling Psychologists strive to alleviate psychological suffering and improve the well-being of individuals, communities, and families.
What are the best undergraduate majors for psychologists?
Bachelor's degrees in psychology emphasise biology, chemistry, and other natural sciences in addition to mathematics and statistics. Students interested in becoming psychiatrists, as well as those interested in healthcare or organisational employment, frequently pursue a BS in psychology.
How do you get experience in Counselling psychology?
Reach out to nearby private therapists and ask if you may shadow their sessions, observe their function, and take on certain obligations as part of an apprenticeship.
What is Graduate Basis for Chartered Membership (GBC)?
GBC guarantees that anybody starting a clinical psychology study (both part-time and full-time) has studied psychology in sufficient breadth and depth to offer a solid foundation for their postgraduate training.
How can I get accredited by the British Psychological Society (BPS)?
To get accredited by the BPS, you must:
Enrol in a BPS-accredited psychology qualification.
Achieve Graduate Basis for Chartered Membership (GBC) in the British Psychological Society.
Get more training (like supervised counselling practice and Continued Professional Development) in the psychology field you want to work in.
---
Conclusion:
A counselling psychologist's job is a rewarding one. What can be more satisfying than being able to alleviate distress from someone suffering miserably? If your career goals include making a difference in people's lives by assisting them in leading meaningful life, then becoming a counselling psychologist is an excellent option for you. Though it takes hard work and significant educational achievements, you can achieve it through the right mindset and dedication.
Kickstart your future by gaining the required skills and knowledge needed to accelerate your counselling psychology career. Join Lead Academy today!
What to Read Next: