Counselling & Psychology
What's the Difference Between Counselling vs Psychotherapy
People usually consider Counselling and Psychotherapy as the same thing. Yes, there are certain similarities between the two; however, both fields have a thin line of differentiation. Hence, the difference between counselling vs psychotherapy involves understanding the perceptions and behaviours of the client and suggesting solutions accordingly. Both domains resolve the concerns of children, adults and old-aged people by analysing the problem faced by them.
Further, counselling is a short-term course, wherein Psychotherapy is long-term. In addition, counselling usually resolves the present issues of the clients, on a conscious level. On the contrary, psychotherapy involves extensively examining an individual's psychological history.
As stated by The Lancet Psychiatry, the mental distress in people has increased considerably after the outbreak of the pandemic.
In the past 1 year, the demand for counsellors and psychotherapists increased, due to the alarming rise in mental and health issues post-Covid 19 pandemic. For the same reason, we can see a surge in cases related to mental health problems, including anxiety, depression, and behavioural issues.
Subsequently, counselling therapy helps to keep good health of mind, body, and soul. Moreover, in these challenging times, you can help people overcome their mental health issues by becoming a professional Counsellor or Psychotherapist.
The article covers the introduction of Counselling and Psychotherapy, the difference between the two and how you can head-start your career in the same field.
What is Counselling?
Counselling is a psychological process where people in distress can share their life-related issues, confusions or fears with the Counsellors. It is performed in a confidential and safe environment. In the Counselling session, the Counsellor offers guidance and support to the clients in dealing with their area of concern.
Counselling therapy can be face-to-face, telephonic or online, and it can be offered to an individual or a group.  Online Counselling has become very common these days. Counselling is present in the semi-structured format as it draws theories from behavioural, cognitive and systemic approaches. The overall aim of Counselling is to enhance decision-making capacity, improve the ability to cope with the crisis, develop personal insights and knowledge and improve relationships.
Are you looking for Counselling & Psychology Course?
Both counselling and psychotherapy are complex topics. Not just anyone can help you understand these concepts and develop new skills. But we can help you with that. Come check out our 
course here
 at this link.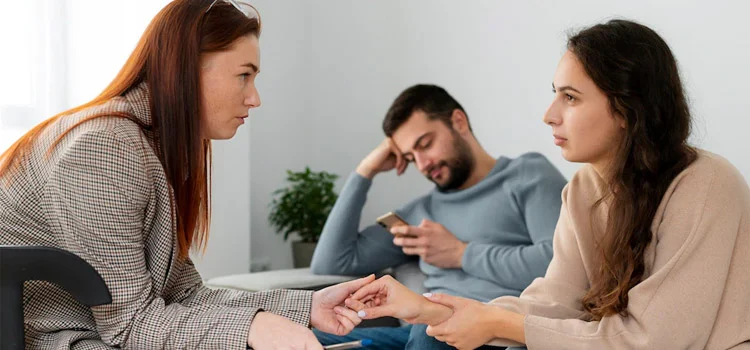 Types of Counsellors
Counsellors are divided into five subcategories depending upon the problems faced by the clients:
Relationship/Marriage Counsellor:
A relationship/Marriage Counsellor is the one who guides the couple, family or individual to reduce any complications in the relationship. If someone faces some understanding issues or quarrel with their partner, they can get in touch with a Relationship/Marriage Counsellor. Counselling is a process where the client and the counsellor set aside to explore difficulties. This may include the stressful or emotional feelings of the client.
Career Counsellor:
A Career Counsellor is the one qualified to help people with their career choices. If you are not sure which course, university or career options to choose, you can connect with Career Counsellors. Career Counselling aims to help the client make career-related decisions by guiding them on how to go about through life, learning, and work changes.
Bereavement Counsellor:
They are often referred to as Grief Counsellors. These counsellors help clients in dealing with personal loss and support them through the stages of grief. They are specialised in understanding the suffering of the client and help them resume their everyday lives. These trained therapists help the patient address their situation and deal with it most appropriately.
Mental Health Counsellor:
Mental Health Counsellors offer psychological care to patients suffering from psychological or mental health issues. This includes anxiety disorders, depression, eating disorders and more. The counselling involves identifying issues affecting the patient's mental health and helping the patient achieve mental growth. Moreover, counsellors can diagnose mental health conditions but can't prescribe medications to the clients. With the increase in mental health issues, mental health counsellors' role has become significant in society.
Drug Counsellor:
Drug or substance abuse counsellors are those who provide assistance to individuals suffering from drug and alcohol issues. A counsellor considers parameters such as the level of addiction, a person's age, the family or support system that they have, the type of drugs they're addicted to. Further, these counsellors also offer assessment, detoxification, rehabilitation, and aftercare recovery through counselling. This is to help the addicted clients get their drug-free life back.
Anyone interested in gaining in-depth knowledge in the counselling industry can enrol in the Professional Psychotherapist and Counsellor course. This online course is offered by Lead Academy and will give you a solid understanding of the subject. It will also helps you kickstart your career smoothly.
Lead Academy offers various courses in Counselling and Psychotherapy, including Diploma in Depression Counselling, Life Coaching and Counselling, Bereavement Counselling, and more. You can join any of the popular courses and get certified in counselling and psychotherapy.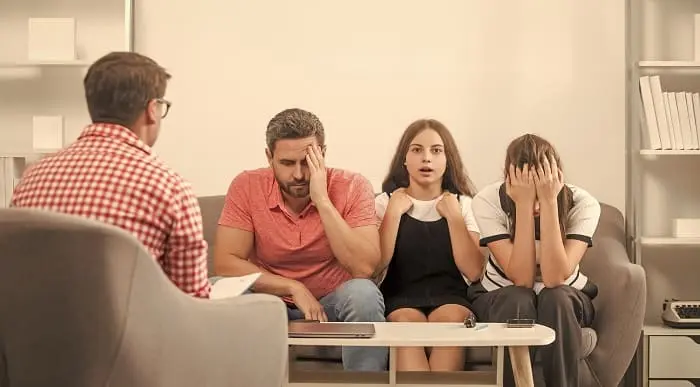 Counselling Skills Online Training Course
Accredited Courses
Tutor Support Included
3 Installment Plan at checkout
14 Days Money Back Guarantee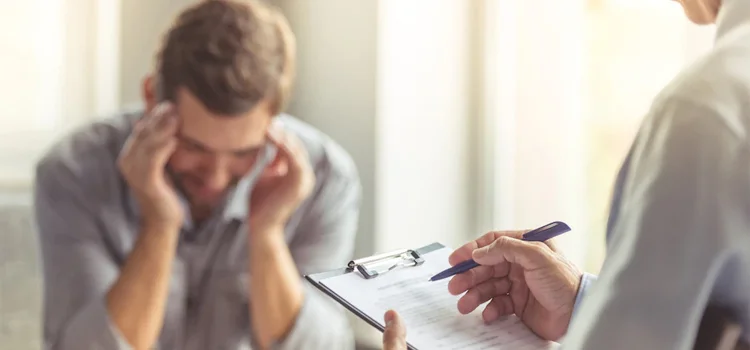 What is Psychotherapy?
Psychotherapy is a long-term treatment that deals with the client's mental disorders such as depression, anxiety, personal setbacks, etc.
Mental therapy helps to find the root cause of the problem to make things clear and better. The psychotherapist attempts to understand your concerns and suggest useful tips and methods to get over the underlying problems effectively.
Psychotherapy supports clients to overcome negative thoughts and guide them in making healthier choices in their personal and professional space. They use a psychodynamic approach to review the client's issues, suggest appropriate solutions, convince the patients to work on the proposed solution and assist them in getting back to their normal state of mind.
Psychotherapy helps you overcome the following disorders:
Addiction
Post-traumatic stress disorder
Chronic pain or serious illnesses
Depression
Obsessive-compulsive disorder
Divorce, or break-ups
Substance use disorder
Stress management
Grief or loss
Insomnia
Low self-esteem
Relationship problems
Phobias
Eating disorders
What is the difference between Counselling and Psychotherapy?
Let's explore what makes these two domains different from each other:
| | |
| --- | --- |
| Counselling | Psychotherapy |
| Counselling focuses on the present issues of the clients. | Psychotherapy focuses on mental distress and psychological disorders. |
| Counselling is a short-term therapy. | Psychotherapy is a long-term therapy. |
| Counselling works with only a few mental issues such as grief, eating disorders and more. | Psychotherapy can help treat addictions, personality disorders, anxiety disorders, schizophrenia, mood disorders and more. |
| Counselling is a secondary process. | Psychotherapy is a primary process. |
| Counselling addresses problems on a surface level. | Psychotherapy addresses problems deeply as compared to Counselling. |
| Counselling involves guiding, supporting and educating the clients to find out the solution to their problems. | Psychotherapy is more concerned with studying the feelings and thoughts of the clients to help them pursue personal growth. |
| Counselling is present in a semi-structured format. | Psychotherapy is a free-form therapy. This means the psychotherapist can customise the therapeutic process depending upon the severity of the patient's problem. |
| Counselling involves resolving the issues in groups and also in person. | Psychotherapy involves studying the mental health of a single person and then resolving the issues. |
| Counselling handles the issues related to Action and behaviour. | Psychotherapy handles the issues related to experience and feelings. |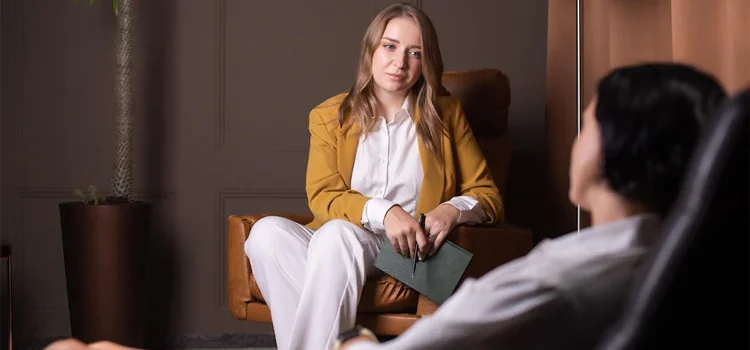 Career Prospects in the Counselling and Psychotherapy
Counselling and Psychotherapy are the two domains with immense possibilities of career growth and expansion. As per Indeed, the average annual earnings of a beginner in the counselling field is £31,146. Similarly, the psychotherapist earns £45,542 annually.
If you plan to pursue counselling or psychotherapy as a profession, then it would be the best career choice. The industry has high earning potential and goodwill in society.
So, if you want to apply for the Counselling/Psychotherapy course, you should have the following skills:
Listening Carefully: Listening is an essential aspect of understanding the situation of the client. The better you listen, the better you know, and the best you will provide the solution to the client's problems.
Patience and Perseverance: Counsellors and Psychotherapists have to treat a variety of clients. Maintaining patience and perseverance helps you understand the precise problems they face and suggest the most appropriate solution.
Maintaining Confidentiality: The patient will be comfortable sharing their thoughts if they feel their concern is safe with you. To help the patient open up, you should strictly follow the confidentiality issue.
Professional Boundaries: Irrespective of the profession you are in, setting up some boundaries with your clients is necessary. One should always follow legal and ethical responsibilities while counselling clients.
A Non-Judgemental Approach: You are in a position where you will encounter different people in different scenarios. Remember, rather than being judgemental about the patient, understanding their situation and trying your best to resolve their issues is important.
Top Courses of this Category
With these skills, you can quickly master Counselling and Psychotherapy and help those who need your valuable advice.
Conclusion
One of us has gone through some psychological distress and mental disorders at some point in life. Hence, we need some guidance and support in overcoming it. Counsellors and Psychotherapists play a crucial role in resolving mental health issues through therapeutic methods and techniques effectively.
Both Counselling and Psychotherapy have been proven efficient for several problems like anxiety, depression and mood disorders. Furthermore, both fields offer successful career opportunities and choosing any of them as a profession will be a great choice.
Further, anyone interested in pursuing Counselling or Psychotherapy as a profession or who wants to have a thorough understanding of the best counselling approaches can sign up with Lead Academy. Because the Professional Psychotherapist and Counsellor course offered by Lead Academy is endorsed by the Quality Licence Scheme and approved by CPD. The extensive online course will provide the students understanding of Mental Health Conditions, Therapeutic relationships & environments and Types of Psychotherapy.
Earn an accredited qualification in Counselling and Psychotherapy today. Visit our website to learn more about the courses.

What to Read Next: