Health and Social Care
Can Social Services Force Someone Into a Care Home
Older people often need to move to care homes when they become unable to live independently. There can be a number of reasons to shift to residential care, health issues being the major one. While this can be a tough choice for some, they can drown into the thinking: Can Social Services Force Someone into a Care Home?
This blog would enlighten you under which circumstances you need to take elderly people to care homes and whether social services possess any rights to impose their decision on you regarding this.
Do you need a health and social care course?
If you are someone who wants to pursue a career in the field of health and social care, our Health and Social Care Course can equip you with the required knowledge. This course would acquaint you with the UK healthcare system, principles of health & social care and other relevant topics, making you an eligible candidate for health and social care jobs.
What are Social Services?
As stated by Britannica, "Social services are any of numerous publicly or privately provided services intended to aid disadvantaged, distressed, or vulnerable persons or groups."
Social services are basically designed to respond to human vital needs, with the aim of safeguarding fundamental rights and human dignity. These types of services ensure to the protection of the wellbeing of children and vulnerable adults.
---
What is a Care Home?
A Care Home provides accommodation and personal care for people who are in need of extra support in their daily lives. Personal care might include help with eating, dressing, washing, using the toilet or taking medication.
Though all care homes offer accommodation and personal care, there are specialist types of care homes that offer additional services for people with greater needs. For example, care homes that are termed as nursing homes, offer assistance from qualified nurses along with personal care.
On the other hand, care homes or residential care homes provide personal care and support but do not provide any nursing care.
There are dual-registered care homes as well that are designed for residents who need both personal care and nursing care
---
Can Social Services Force Someone into a Care Home?
Simply put, the answer is no. In the UK, social services cannot forcefully take you into a care home.
If you are mentally capable of making your own decisions, you have every right to decide whether you want to shift to a care home or not. If needed, you can arrange professional care at home for yourself instead of going to the care home.
However, social services have their part to play and so they can assess your needs as an elderly person. Social services can only force someone into a care home when their care needs are not being met at home. They can then place you in an environment where they believe you would be safe and your needs will be met.
---
When can Social Services Take Steps?
Social Services have certain obligations while placing elderly people into a care home. Local authorities have the authority to make the decision about moving someone into care against their wishes under the following circumstances:
If an elderly person's care needs are not being met at home
If the elderly person poses a threat to the safety of other people in their home
If the person is incapable of making decisions for themselves regarding their care
However, elderly people can have genuine choices about where they want to live and local authorities must follow the guidance regarding this. Any decision taken must meet the interests of the individual by all means.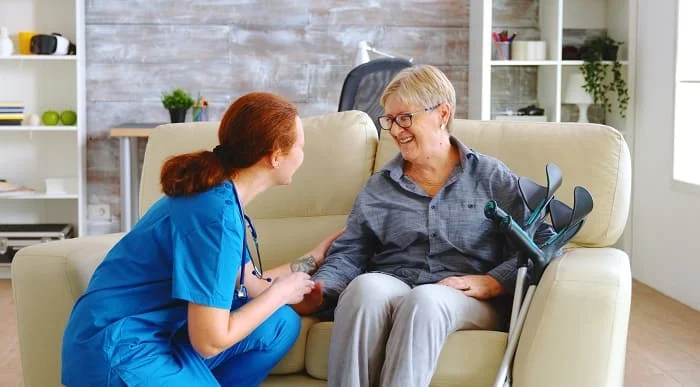 Health and Social Care Level 3
Accredited Courses
Tutor Support Included
3 Installment Plan at checkout
14 Days Money Back Guarantee
When to Consider a Care Home?
Moving to a care home is often a difficult choice for many. Despite the unwillingness, a person might need to go to a care home when-
You are mentally unable to make any decision
A person may have mental health issues, a disability, or severe dementia making them incapable of making any decision for themselves.
The health care professionals will then contact the person's family to decide whether they should be taken to a care home.
You need support and supervision to lead your life
If any elderly person starts experiencing mobility problems, they might need personal care and assistance with dressing, washing, going to the toilet and so on.
Going to the care home would ensure that their care needs are met and that they are safe and secure due to the supervision of the carers 24/7.
You are in need of respite care
Suppose you have undergone surgery or have broken a bone, or had a joint replaced, then maybe you are well enough to leave the hospital but find it difficult to stay at home.
Under such a situation, you might prefer going to a respite care home unless you gain back your mobility.
You have funding issues
You might be surprised to know that paying for care homes is cheaper than paying a carer. If you plan to shift to a residential care, know that the local authority would fund you if you are unable to self-fund.
With this option, you would still have the liberty to choose your desired care home. As per an article published in the BBC, "The self-funders pay over £1,000 a week, whereas the council has negotiated a rate of £539. It appears that self-funders pay more than those who are placed in care homes by their local authority."
Life in Care Homes:
While staying at care homes may seem frustrating and scary, there are some positive sides to staying at care homes. A person who is struggling to live independently, has no family members or friends around, would get assistance from carers and nurses 24 hours a day. This ensures that they are safe and secured while they are away from their home.
In residential care, residents get regular and timely meals to meet their nutritional requirements. The carer will regularly asked their opinions about the quality and choice of the food as well as other aspects of the home, and receive their feedback. They also monitor and manage the residents' medication routines.
The best part is, there remain opportunities to socialise with others of a similar age. The elderly residents can take part in different fun activities. The activities might include quizzes, scrabble games, knitting, cake decorating and gardening.
At Eastlake Care Home, residents are even taken to trips in day centres, the coast and local schools to see their plays.
If you are interested to know more about what it is like to live in a care home, you can go through the following articles on BBC and The Guardian.
---
How to Avoid Going to a Care Home Against Your Will?
You might have read about how to get an elderly person into a care home. However, do you know how to avoid going to care homes if you are not willing to? Here are some ways-
In addition to one for your financial affairs, you can make a lasting Power of Attorney for your health and welfare
State your care wishes and write to your solicitor with explicit guidelines
You can go for alternative types of care such as homecare or live-in care
Conclusion
"Care homes" and "Social Services" are the two daunting terms for people who do not wish to leave their homes. Thus, they search in Google, "Can Social Services Force Someone into a Care Home?"
This blog has answered all the relevant questions related to care homes, social services, their rights and your right as an elderly citizen. So, there should be no more fear or doubts regarding this.
If you are into social services or want to start a career in this sector, doing some online courses like Health and Social Care Course, Safeguarding Children Course would make you an expert and a potential candidate able to grab the employers' attention.
---
What to Read Next: