Personal Development
How to Become an Architect – Definitive Step by Step Guide
Wondering how to become an architect? The traditional path entails five years of university study and a minimum of two years of practical experience.
However, you can also study part-time while working in architectural practice through RIBA Studio or the apprenticeship route.
Whatever path you choose, the final result will be the same. You will be a fully trained architect who may join the Architects Registration Board (ARB). Don't worry about the term ARB. We'll talk about it in detail later on.
So, while you must have the necessary qualifications, abilities, and experience to become an architect, there are several routes you might take.
In this article, we will look at–
how to approach the paths to become an architect,
qualifications needed to become an architect,
what they do,
their average salary,
the many types of architects,
and the qualities required to be a successful architect.
Let us begin without further ado.
But first, let's talk about the responsibilities of an Architect.
Are you looking for an awesome interior design course?
Our
Interior Design Course – Popular Styles
online course will teach you the fundamentals of interior design and introduce you to some popular interior design styles. Even though the subject may seem daunting, as there are a lot of creative elements at play here, you'll see how quickly you can grasp the basics. The rest is to just let your imagination fly.
What Does an Architect Do?
Architects are trained in the science and art of building design and are licensed professionals. They are in charge of designing and constructing buildings and other structures that are constructed and utilised in a variety of environments.
Architects are responsible for a structure's aesthetic appeal as well as its safety and utility. They must also examine the economic elements of buildings and guarantee that they fit the demands of the people who will use them.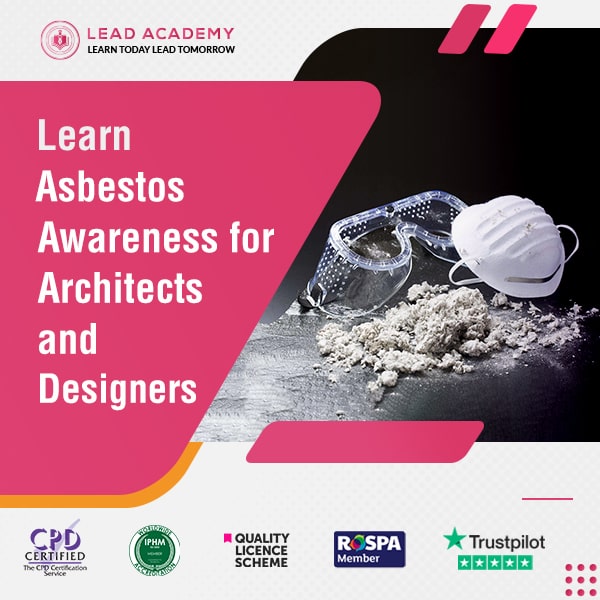 Asbestos Awareness Course for Architects and Designers
Whether you are someone who is interested in acquiring knowledge about asbestos to generate awareness among your employees or an architect or designer working in an environment that may contain asbestos, this extensive Asbestos Awareness for Architects course will set you up with the appropriate knowledge to resolve the risks associated with asbesto.
Typical Responsibilities
An architect's typical responsibilities may include:
Creating architectural designs that best meet the demands of a client.
Supervising architectural projects to ensure that they are practical and of good quality.
Developing project blueprints.
Predesign estimates are created by combining cost analyses, land studies, and the environmental effect of a construction.
Investigating and adhering to zoning laws, building rules, local ordinances, and other restrictions that may have an influence on an architectural project.
Using modern computer technologies to create structural models and investigate various building methods.
Locating and acquiring construction contracts, as well as coordinating with construction workers.
While there are numerous types of architects in various businesses, the basic goal of all architects is to plan and design all structural components.
Why Become an Architect?
Architects produce architectural blueprints and technical drawings by combining creative and scientific talents. You'll require–
analytical abilities,
strong attention to detail,
and design originality.
Being an architect is a high-pressure job with a lot of responsibility, yet seeing the structures you helped design can be tremendously satisfying.
If you're more interested in the underlying science buildings (including technical blueprints and determining which materials to use), you can explore becoming an architectural technologist.
Skills Required for Becoming an Architect
What skills do you need to be an architect? Let's give you a glimpse.
The following are the skills and knowledge required to become an architect:
Design knowledge (including drawing skills) and abilities
Understanding of building and construction
Must be meticulous and detail-oriented
Abilities to think and reason
Abilities in customer service
Exceptional verbal speaking abilities
Analytical thinking abilities
The ability to act on your own initiative
Must be able to successfully utilise a computer and the major software programs
The Most Common Types of Architects
Before diving into how to become an architect in-depth, let's first learn about the most common types of architects from below:
Technical Architect
These individuals are primarily concerned with a structure's technical elements, such as–
thermal efficiency
and water tightness.
Technical architects research and alter construction mechanics and features to ensure that structures fit regional and local building codes and regulations.
Planning Architect
This type of architect is usually invited into a project to advise on the project's compliance with local and national laws and regulations. A planning architect, for example, may explain a site's legal constraints or submit a project for approval to a municipal or regional body.
Site Architect
A site architect is in charge of monitoring all activity on a building site from beginning to end. They may–
give directions to construction workers,
secure the construction contract,
and guarantee quality and safety are maintained throughout the course of the project.
Design Architect
This architect is responsible for the entire design and construction of a building. A design architect may–
develop the first outline of a project,
draft blueprints,
and modify the architectural design to meet the needs of the customer.
This specialist may also be involved in–
the material selection process for the structure,
as well as overseeing the construction and design teams throughout the building phase.
How to Become an Architect?
Before we begin, you should note that our blog applies only to "how to become an architect in the UK" and the architect career path in Great Britain.
Before you begin, you need to become acquainted with the term "Architects Registration Board (ARB)."
Architects Registration Board (ARB)
The Architects Registration Board is an independent agency that regulates, upholds, and safeguards the architect profession in the United Kingdom.
Anyone who claims to be and/or practices as an architect must be included on the ARB's Register of Architects. The registration ensures that only those with the necessary training, education, and practical experience may provide the professional services of an architect.
GCSEs
What subjects are needed to become an architect?
To advance to a degree level qualification, you will require at least 5 GCSEs in grades 9 to 4 (A* to C) or equivalent, including English, mathematics, and a science.
A-Levels
As various schools have varying UCAS point requirements, the needed A levels will vary depending on where you choose to pursue your professional architecture degree or apprenticeship. In general, you will require at least two (typically three) A levels in related disciplines.
Some institutions will demand A levels in math and/or science, so these are useful courses to consider. Alternatively, disciplines such as design and technology and art are viable possibilities. Art, in particular, will assist you in developing a portfolio of sketches and drawings that indicate you have the technical drawing abilities necessary for architecture.
Architecture Degrees
The majority of architects begin the industry after completing a five-year ARB-accredited architecture degree and taking time off to gain practical experience.
The degrees are divided into three sections that provide students with a mix of classroom instruction and on-the-job experience:
Part 1
Part 1 consists of an undergraduate degree, such as a BA or BSc in Architecture which takes 3-4 years to finish full-time. This is where you will hone your fundamental architectural knowledge and abilities.
Practical Experience
Practical experience, which usually lasts a year. You can do this before or after your studies, although it is advised that you do it after.
During the practice session, you will work in an architectural firm with the assistance of an employment mentor and a Professional Studies Adviser. You will record your experience using RIBA's PEDR recording tools, and if it is eligible, it will credit toward your ARB registration criteria.
Part 2
Part 2 consists of a two-year postgraduate degree in architecture whose title varies based on the learning provider, such as BArch (Bachelor of Architecture), Diploma, or MArch (Master of Architecture). You will get more architectural expertise, project complexity, and the ability to conduct specialised research.
Practical Experience
Two years of practical experience, one of which must be spent directly under the direction of an architect. At this stage, you will be given increased responsibilities and the opportunity to become a RIBA Associate member.
Part 3
Part 3 consists of exams, which are both written and oral. You will be evaluated based on your past practical experience, case studies, professional CV, and career assessments.
Two samples of degree programs from two separate universities are presented below for your convenience:
Nottingham Trent University (NTU)
Modules in the three-year BArch (Hons) Architecture (Part 1) at Nottingham Trent University (NTU) include
Technology and Environment in Architecture,
Architecture in Context,
and Architectural Communication and Representation,
–where you'll learn how to employ 2D and 3D design methodologies.
In your final year, you'll present your work at NTU's Degree Shows, which are attended by prospective employers.
Entry Requirements
To apply, you'll need–
ABB at A-level,
BTEC Extended Diploma DDM,
or 128 UCAS points from similar credentials,
as well as mathematics and English GCSEs at grade C/4 and a digital portfolio.
University of Lincoln
The University of Lincoln offers accredited courses qualifications for all Parts– 1, 2, and 3. Its March Master of Architecture (Part 2) program is available as a two-year full-time study or as a three-five year part-time program.
The course is divided into two levels and employs a variety of instructional approaches, such as–
project-based learning,
seminars,
and group work.
At level one, you will focus equally on research and design, and you will select your topics from a variety of specialisations. The second year focuses on professional practice, and you'll complete a final project that combines your understanding of–
Technology,
research,
sustainability,
and cultural awareness.
Entry Requirements
To apply, you must have at least a 2:1 undergraduate degree and, preferably, some work experience.
After finishing all three stages, you will be able to register as an architect with the ARB, becoming a fully-fledged, qualified architect ready to begin working in the fascinating field of architecture.
You can find a complete list of accredited degree programs at ARB – Schools & Institutions of Architecture.
RIBA Membership
Once fully certified, you can also become a RIBA Chartered member as you begin your career in architecture. You will have access to specialised information, resources, expertise, and guidance, as well as day-to-day practical assistance and the potential to network with tens of thousands of other architectural professionals.
Find out more about RIBA Chartered Membership here.
Vocational Path to Become an Architect
Architecture degree apprentices provide the same level of qualifications as a degree and are a vocational route into an architectural career. They are advantageous since they provide more practical experience than a degree.
Typically, you will devote around 80% of your time to practical, on-the-job experience, with the remaining 20% devoted to academic study.
Architecture Apprenticeships
They are likewise divided into three sections, and there are now two types of architectural apprenticeships available:
1. Level 6 Architectural Assistant Apprenticeship
You will receive a Bachelor's degree and Part 1 certification upon completion.
2. Level 7 Architect Apprenticeship
This gives you Part 2 and 3 certifications, and upon completion, you will receive a Master of Architecture (MArch). You can then register with the ARB as an architect.
You may presently study for a RIBA-validated Level 7 architecture degree apprenticeship at the following institutions:
University of Bath
Birmingham City University
De Montfort University, Leicester
Leeds Beckett University
London Metropolitan University
London South Bank University
Northumbria University
University of Portsmouth
The University of the West of England (UWE).
Entry Requirements
Entry requirements are usually the same as for degree programs, albeit you may need fewer GCSEs and A Levels. Typically, you'll need:
For a higher or degree apprenticeship, 4 or 5 GCSEs at grades 9 to 4 (A* to C) and A levels, or equivalent.
You will also need to receive an apprenticeship offer from an employer before beginning.
To get started, use the RIBA's Find an Architect and Find a Chartered Member databases, as well as GOV.UK's Find an apprenticeship service.
For further information, go to RIBA – Architecture apprenticeships.
Alternative Routes
If you live in the United Kingdom, the European Union, the European Economic Area, the Channel Islands, or the Isle of Man and are presently working under the supervision of a registered architect, you might pursue the RIBA Studio qualification. You can study Parts 1 and 2 at your own pace.
This approach may be especially appealing if–
you've decided to shift careers to architecture,
have gone straight into employment from high school or college,
or have done Part 1 at university and stayed in practice after a year off.
RIBA Studio is taught in collaboration with Oxford Brookes University's School of Architecture.
If you have not yet acquired your first salaried practice experience and are new to the subject of architecture, the RIBA Foundation in Architecture program will assist you in developing the portfolio and experience required for Part 1. Oxford Brookes University also offers this.
Can I Be an Architect Without a Degree?
You will get on a diploma course with another similar degree if you can demonstrate some affinity to architecture, especially if you can show some job experience in the sector as well. However, the diploma is crucial, as is the final professional test in ARB.
Top Courses of this Category
How to Finance Your Architect Education?
You've already taken the first step on an exciting journey if you've chosen that being an architect is the career route for you.
Because there are several paths to becoming an architect, there are numerous methods to finance your study. If you want to attend university, you will be eligible for loans to fund your tuition and living expenses. However, this varies across England, Scotland, and Wales.
There are no tuition costs, and you are compensated during your apprenticeship if you qualify through the apprenticeship path.
Learn more about architect financing here.
Career Tips
Employers and university architecture programs place a significant value on work experience. In addition to architect professions, you may learn applicable skills in sectors such as construction and design.
Professional and Industrial Organisations
You can look at the prospect of joining the Royal Institute of British Architects for training and networking possibilities.
More information
The Royal Institute of British Architects, the Architects Registration Board, and Go Construct all include additional helpful information which you may find useful.
Average Salary Figures of an Architect
How much do architects earn in the UK?
Here's a brief look at your potential earning figures as an architect–
Starting salaries start from £24,701 for new architects. The normal range is about £40,531 for fully qualified architects. Highly skilled professionals might make up to £70,385 per year.
You also have opportunities for self-employment and freelance jobs. However, your earning figures here will depend entirely on you and the type of projects you're involved in.
FAQ
Is architecture hard to study?
Architecture is more challenging than many degrees since it requires creative and technical thinking while covering a wide variety of fields such as art, science, history, geography, and philosophy.
Do you need math for architecture?
Architects must be proficient in mathematical concepts in order to efficiently plan and design buildings and other structures. To acquire a degree in architecture, students must complete numerous math subjects in college.
How many years does it take to become an architect? / How long does it take to become an architect?
Individuals must get the appropriate quantities of education and hands-on job experience in order to succeed, which normally takes 8 to 11 years.
Can you become an architect without going to university? / How to become an architect without a degree in the UK?
We talked about it in detail in the blog. Explaining it in short here would be difficult. Please give the blog a read.
Do you need a degree to be an architect?
Whether it's a Bachelors's/Master's degree or a diploma, you'll need it to sit the final professional test in ARB.
Is architecture a fun career?
A degree in architecture is quite lucrative. But it's also one of the most demanding, with long hours, a massive workload, and a concentration on precision, so you need to know what you're getting yourself into.
Is architecture a good career? / Is studying architecture worth it?
It definitely is. Not only is the pay very appealing, but according to UCAS, there were 40,897 openings for this category of work during the year 2021. So, there's no shortage of employment opportunities.
The projected job growth is also about 4.62% over the next eight years.
What A levels do you need to be an architect?
We discussed it in depth on the blog. Please have a look at the blog.
What GCSE do I need to be an architect?
Please check out the blog as we also discussed this in detail there.
Is there a shortage of architects in the UK?
Architects have now been formally placed to the Shortage Occupation List (SOL). The changes imply that those coming to the UK to work in architecture will have preference over other occupations in obtaining a Tier 2 work visa.
Conclusion
Architecture is a serious matter that only qualified professionals should handle. It's no surprise that architects are responsible for the safe construction and long-term durability of homes and commercial facilities. Becoming an architect is a complicated process. However, after going through our entire blog on how to become an architect, we assume that you are well informed regarding everything in this matter so you can take an educated decision. Whatever path you choose, the final result will be the same: you will be a fully trained architect who may now join the prestigious Architects Registration Board (ARB).