Phlebotomy
How to Become a Phlebotomist
In the modern health care system, phlebotomy is undeniably one of the most crucial parts. Being one of the essential services in the healthcare industry, every institution that provides healthcare services needs phlebotomists, whether that's directly or indirectly. Phlebotomy is more commonly known as a venipuncture. It basically means "to draw blood" from our veins. The procedure has a solid scientific groundwork behind it. The procedure of drawing blood from our body is although simple, it needs skilful hands to execute safely. But that's not where the role of a phlebotomist ends. They do much more than simply take blood samples from us. As such, phlebotomists are highly trained individuals that need special training. In this blog, we'll discuss how to become a phlebotomist, and much more so you'll know what to expect from this role.
So, the first thing that will come to anyone's mind when discussing our topic today is that what is a phlebotomist? Let's start our discussion with this question.
Who is a Phlebotomist?
The word 'phlebotomy' has its root in the Greek language. In the Greek language, 'Phelps' means 'vein'. 'Tomia' means 'cutting'. So the 'phlebotomy' together means "the cutting of the vein".
Early phlebotomists were trained in the art of bloodletting. Bloodletting is the withdrawal of blood from a patient to prevent or cure illness and disease. It is still a thing today as a form of alternative medicine in some parts of the world. Other terms that may refer to the practice of bloodlettings are wet cupping, ayurvedic detox etc. You may think that the practice is a total hoax. But in reality, bloodletting is still used as an evidence-based practice for certain serious medical conditions.
Early phlebotomists also used leeches for the same purpose. However, the practice of using leeches to cure disease is something that is still up to debate.
How to Become a Phlebotomist?
Phlebotomists require some special skill to make them eligible to practice in a medical setting. We can help you achieve just that. Explore our 
phlebotomy course
 to kickstart your career as a phlebotomist.
Modern phlebotomists, on the other hand, are highly trained individuals. Their works are driven mainly by pure science that drives the healthcare sector. They may draw blood for tests, perform blood transfusions, conduct research and assist with blood donations. The blood samples they take from patients in a laboratory are used to diagnose diseases and conditions. Their works depend on accuracy since diagnosing a patient relies primarily on their findings. As such, they also have to know how to perform well under pressure and communicate effectively with an array of individuals.
But it's not just the hospitals that employ phlebotomists. Any organisation working with biological samples needs phlebotomists as a part of their core team. For example, research laboratories regularly employ phlebotomists for their day to day operations. In addition, insurance companies can hire phlebotomists as private sample collectors for legislative purposes.
So the next thing that naturally comes to our mind is: what will you do as a phlebotomist?
---
What You'll do as a Phlebotomist
Phlebotomists are not doctors in the sense that they do not directly treat patients. But phlebotomy or venipuncture is still an integral medical procedure for most diagnostic testing processes as it's one of the most common medical procedures undertaken in a hospital. This is why phlebotomists are also known as "allied medical professionals". It's a designation for healthcare personnel that have direct contact with patients but are not doctors or nurses.
The main training of phlebotomists includes the practice of drawing blood from patients on a daily basis. The age group of these patients aren't limited to a particular section. Phlebotomists work with babies and aged patients alike.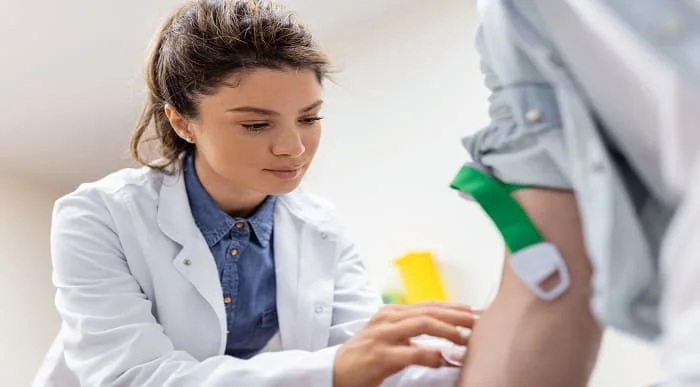 Phlebotomist Training Course Online
Accredited Courses
Tutor Support Included
3 Installment Plan at checkout
14 Days Money Back Guarantee
Blood drawing has many different purposes. Every phlebotomy test is different. They have specialised tools and specific instructions that they must follow to suit the purpose. For example, laboratory analyses usually need several small tubes. These tubes generally hold five to ten millilitres of fluid. Blood donations or laboratory testing may also require a small amount of blood. But other cases like therapeutic phlebotomy, which aim to treat high iron levels or red blood cell levels, may require a much more considerable amount of blood removal.
These are the most common blood tests that we go to a phlebotomist for:
Complete blood count (CBC)
Provides a count of your red blood cells, white blood cells, and platelets and includes several other measurements.
Comprehensive metabolic panel
Test of blood chemistry that measures the glucose in the blood along with other substances.
Blood enzyme tests
Informs doctors about what's going on in the body, such as whether you have had a heart attack.
Lipid panels
Tell the doctors about your levels of cholesterol and triglycerides.
Blood clotting tests
This test can show if you are at risk of bleeding or abnormal clotting.
However, drawing blood isn't the only thing that phlebotomists do. To become a certified phlebotomist, training such as: bedside manner, patient assistance, instrument sterilisation, and tracking, labelling and identifying blood samples.
Sometimes medical teams need help with tests on drawn blood. Analysing samples by taking note of the cell count and blood type compatibility are some of the things that phlebotomists can do. The information they collect is then logged into the patient's records and reported back to the referring physician. These tests often play a crucial role in deciding a definitive treatment plan. Phlebotomists also often serve as team members of these groups.
Phlebotomists can also play a more mobile duty. Mobile phlebotomists equip themselves with a more versatile skill set. They travel between patient locations on a daily basis. This can include residences, nursing homes, offices, etc. That's why mobile phlebotomists need to be adept drivers as they transport sensitive specimens and instruments with them. They also need to know how to handle equipment like the centrifuge and how to store samples.
Depending on where you are working, you may work as part of a team with nurses, healthcare assistants, research centre personnel, biomedical scientists, general practitioners and other healthcare staff in an insurance company, for example. So the number of other responsibilities that you'll assume may vary according to your circumstances too. No matter where a phlebotomist works, the tasks remain almost the same. Thus, we can draw a general picture that a phlebotomist's duties will include. Examples of these responsibilities can include but are not limited to:
Interacting with patients and comforting them
Maintaining patient records
Taking into account the patients' past records and their overall wellbeing whilst drawing blood
In addition to drawing blood, taking immediate note of the patient's blood pressure, temperature, pulse and oxygen levels
Cleaning, preparing and sterilising equipment
Organising samples
Supervising the distribution and transportation of samples
Adhering to health and safety regulations
---
What Types of Skills Do You Need to Be a Phlebotomist?
Just knowing how to draw blood will not make you a successful phlebotomist. There is so much more to the phlebotomy job than the name can imply. Examples of these skills are:
Phlebotomists must have steady hands and good coordination to perform smooth blood draws and minimise patient discomfort.
As a phlebotomist, you'll be regularly working with needles. Having a good understanding of customer service and interpersonal skills like empathy and verbal and nonverbal communication will help you comfort your patients. It will make sure that they cooperate properly in the procedures that are included in a blood test.
Many patients even fear looking at blood, let alone having it drawn. So sensitivity and understanding regarding their emotional state are essential. You may want to work quickly to make the most of your time, but you'll have to be patient and understand the mental trauma of your patients. Remaining positive and trying to calm the patient can make the experience much more enjoyable for them, making the job easier.
Dexterity and attention to detail
Dexterity is crucial in phlebotomy. Nobody wants to be poked more than once if it's not necessary. You'll have to ensure that the blood test procedure for your patient is as painless as possible.
In addition to dexterity, you'll also have to have excellent attention to detail as every patient is different. Veins can come in all sorts of sizes and shapes. The patient's health condition will also tell you whether they'll be comfortable with the procedure.
Knowledge of all health and safety guidelines is mandatory in this line of profession. This is to protect both the patient and yourself. Always be attentive to both the patient and the instrument that you use during your role as a phlebotomist. Make sure to label the samples, too, as a mishap, in this case, can have severe consequences for the patient.
These days, basic computer skills are a must for a phlebotomist. Most of the places that you can expect to work in will use computers to store records digitally as it's easier to track and maintain.
A phlebotomist can work anywhere, ranging from a children's hospital to an emergency room. None of these places will be without any stress. Your ability to remain calm will massively dictate your dexterity and your efficiency. If you have the habit of losing patience quickly, phlebotomy isn't a job for you.
---
How Much is a Phlebotomist Paid in the UK?
A phlebotomist's average salary is £19,250 per year in the United Kingdom. This figure can vary depending on certain factors such as location, specific job responsibilities, training, education and experience level.
However, with experience, you can become a phlebotomist team leader, a position that will earn you up to £22,000 per year. Once you become a specialist biomedical scientist, you can look forward to earning up to £34,000 per year.
---
How to Become a Phlebotomist?
To quote the National Health Service or the NHS of UK,
"There are no set entry requirements to become a trainee phlebotomist. Employers usually ask for at least two GCSEs or equivalent. They may ask for a BTEC or equivalent vocational qualification in health and social care or healthcare.
Employers often ask for relevant work experience. Even where this is not specified, it would be an advantage if you have worked in health or social care, in either paid or voluntary work. There are apprenticeships in healthcare that would give you relevant experience to apply for a trainee phlebotomist position. You could work as a healthcare assistant, and then receive training in phlebotomy so that you can take patient's blood."
So, as you can see, the UK government doesn't specify any qualification requirement of a phlebotomist. Employers have the complete freedom to choose how qualified a person do they need.
However, if we keep the below mentioned points in mind, the process of becoming a phlebotomist will become much more clearer to us.
7 tips on how to become a phlebotomist
College courses on phlebotomy
Phlebotomy apprenticeship
Working to become a phlebotomist
Volunteering to become a phlebotomist
Applying directly for the phlebotomist position
Career development in phlebotomy
National certification in phlebotomy
However, for the sake of understanding, we're going to organise all these points into different distinctive sections and subsections.
So, there are four common routes towards becoming a phlebotomist. However, routes that involve formal education and experience can lessen the time to become a phlebotomist. These are:
Trainee phlebotomists do not face any hurdles like an entry requirement. But, a college qualification will give you an advantage when applying for a phlebotomist job. These qualifications include:
Level 2 Diploma in Healthcare Support Services
Level 2 certificate in Health and Social Care
Level 3 Diploma in Healthcare Support
T level for Healthcare Science Assistants
Entry requirements
2 or more GCSEs at grades 9 to 3 (A* to D), or equivalent, for a level 2 course
4 or 5 GCSEs at grades 9 to 4 (A* to C), or equivalent, for a level 3 course
4 or 5 GCSEs at grades 9 to 4, including English and maths (for a T level course). It'll be beneficial for you if some of your GCSEs are in areas such as biology or chemistry.
One way to become a phlebotomist is through an apprenticeship. You'll work alongside experienced staff and gain the skills needed in your specific medical field. An apprenticeship can take between one and five years to complete depending on the level. After successfully completing your apprenticeship, you may even get a full-time employment offer from the organisation you're working for.
You could do an intermediate apprenticeship as:
 A healthcare science assistant specialising in phlebotomy.
A healthcare support worker and then apply for a trainee role in phlebotomy.
Entry requirements
Some GCSEs, usually including English and maths, or equivalent, for an intermediate apprenticeship.

Working towards the role
Working
Starting as a healthcare assistant and working your way up through training and promotion is also an option to become a phlebotomist. It'll give you an overview of the patient care system. You'll have to take the relevant training before you're considered qualified enough to work full-time as a phlebotomist.
Volunteering
If you're struggling to find employment as a phlebotomist, consider volunteering in a health or social care role as employers typically look for relevant work experience. Volunteering will give you that much-needed work experience.
You could contact the voluntary services coordinator at your local NHS trust for further advice. Do-it also has information on volunteer opportunities in your area.
You can also apply directly for a phlebotomist position. Again, there are no set requirements to become a phlebotomist, but these might help:
---
Career Development & National Certification
Once you train as a phlebotomist, you can join the National Association of Phlebotomists (NAP) or the Institute of Biomedical Sciences (IBMS).
Both of these organisations will offer you further training regarding phlebotomy. It's not a necessity, but they'll set you apart from other candidates.
You can climb up to a leadership role or a senior phlebotomist with more responsibilities with further training and education. For example, you could become a team leader, supervising other phlebotomists, or you could go into the area of donor care and work for the NHS Blood and Transplant Service.
While not that relevant, depending on the job, some employers may require you to have a first-aid certificate or a driving licence.
Check out our other blog, "How to Become a Paramedic – Step by Step Guide."
---
Conclusion
Phlebotomy is one of the most underappreciated professions. Most non-medical personnel looking to enter the healthcare industry overlook this skill-based line of work. Phlebotomy is a highly technical procedure that takes time to master and apply. Knowledge of the human body, blood transportation and storage procedures, safety precautions and regulations are only a few factors that are expected from a phlebotomist. As such, they play a significant role in a medical team.
So, knowing more about what a phlebotomist is and how to become a phlebotomist will help you decide if this is the career for you. But we've gone beyond just the basics in this article to make sure you know what you're getting yourself into. If you decide that this is a suitable career for you, all you need to do is read the article carefully and decide which path is the easiest and most convenient for you.
---
What to Read Next: