Animal Care
How Much Does it Cost to Train a Guide Dog
Training a guide dog is a major investment. These dogs are highly trained working animals, but they don't come cheap. There is so much time, money and dedicated staff involved in this whole process. So, how much does it cost to train a guide dog? During its lifetime, a guide dog will cost you around £35,000 to £55,000. But the initial cost is not that high. It only costs £10,000 to train a Guide Dog.
But it will cost about £55,000 to support one throughout its entire life. However, these numbers aren't merely some roughly estimated figures. They are taken from real-world scenarios.
This is what we are going to talk about in this blog. We will also discuss topics that are relevant too.
What are Guide Dogs?
Guide dogs are trained to enable people who are blind or vision impaired to achieve independence and mobility. They aren't bred like an average dog, and they're trained to work with their handler as a team. They can safely guide them where they need to go.
These dogs are also called Seeing Eye Dogs or Dog Guides.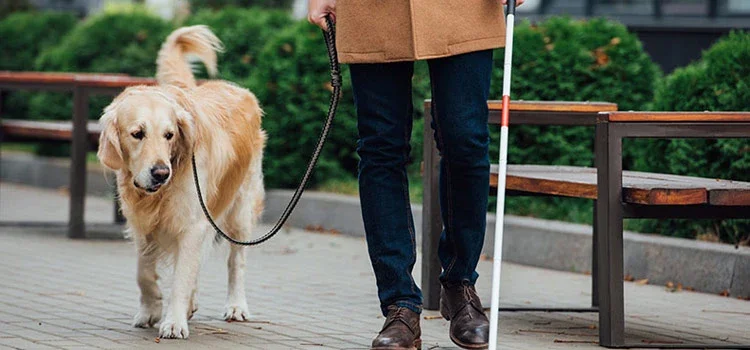 Preferred dog breeds as guide dogs
Guide dog breeds are chosen for several characteristic traits. Two of the most important of them are temperament and trainability. Several dog breeds match these traits. But the ones that are most preferred as guide dogs are Golden Retrievers, Labradors, Standard Poodles, German Shepherds, and the cross between Golden Retriever and Labrador. These breeds are the most likely to be chosen by service animal facilities.
However, people usually prefer the Labrador Retriever as a guide dog throughout the world. The dogs from this breed are responsive, intelligent and placid, and they also learn quickly. It takes an average of two years to breed, raise and train a working dog.
How to become a professional dog trainer?
Responsibilities of a guide dog
Guide dogs help the vision-impaired handler to walk freely and with confidence. Independent mobility is essential for a person to enjoy the same rights, responsibilities and freedoms as anyone else in their community. These dogs enable their handlers to do just that.
Organisations can train a these dog to work in a range of situations and a variety of settings. Whether the setting is residential or a city or rural, a guide dog can be trained to help its handler get from point A to point B without any hassle.
These are some of the things that a properly trained guide dog is expected to do:
Walking freely and responsibly.
Having good traffic awareness and safety.
Identifying obstacles or safety hazards in their path.
Guiding the handler safely around them.
Guide their handler to use public transport safely.
If necessary, be intelligently disobedient. For example, ignore an unsafe command.
Ignore distractions and not react to other dogs, even if attacked.
Understand and respond to commands such as:

Forward
Stand or sit
Straight to the curb
Find the door
Find the counter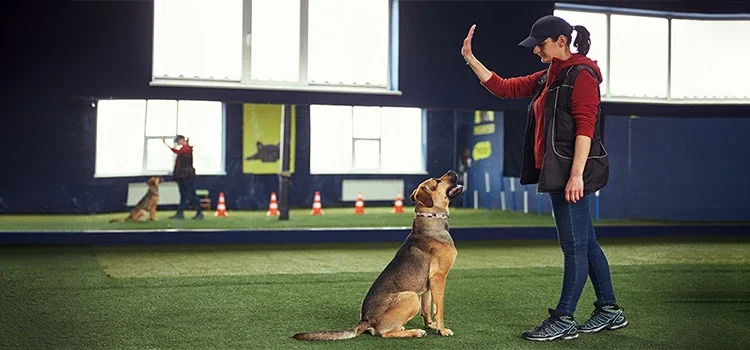 ---
Training of a Guide Dog
The organisations responsible for breeding guide dogs usually train all their dogs under a breeding programme. This breeding programme, in turn, is generally a part of a larger programme that is aimed at helping the blind and the visually impaired.
How many years does it take to train a guide dog?
The training of guide dogs teaches them to work in straight lines from one curb to the next. They can identify obstacles and also determine how to avoid them. Directional instructions like continue, turn, left or right or locate things such as seats, lifts and train doors come from their owner. They execute these commands as instructed.
The training of these dogs usually starts at a very young age. The puppy basics come first. For example, some of the organisations follow a standard procedure in teaching a puppy the basic stuff. It's not always the same all over the world, but guide dog training can't be all that different either. Otherwise, the training loses effectiveness. Six weeks after being born, these dog puppies spend a week in socialisation and habituation training. Basically, they are learning to socialise with other dogs and people. It encourages them to be happier, friendlier and more predictable. They are already learning how to handle stress at this stage, too.
After that, their learning is developed over a six month formal training period. As they mature and are able to learn more, the complexity of tasks is increased. It thus helps instil good decision-making ability in them. It is necessary because guide dogs have to be able to work in a variety of environments and conditions.
---
How are guide dogs trained?
Guide dogs are trained through positive reinforcement. It's a very effective method of teaching. They are given praise, treats and means of having fun whenever they perform according to the instruction of their owner. Over time, they learn to identify the behaviours that they get rewards for.
As a result, they switch to the behaviours that will get them these rewards. This training method builds a strong bond of trust between the trainer and the dog. The stronger the bond, the more quickly the dog will learn. It's the most effective and kindest way to train a dog as there is no risk of a negative impact on the psychology of the dog.
When a guide dog leaves its raiser at the age of 12-14 months, when it's still a puppy, it will have already learned all the basic obedience skills. It will know how to walk nicely and calmly on a lead and have experienced many different places including shops and public transport.
After that, they will spend six months working with a dog trainer. This is also the first time that the dog will learn to wear a harness. The trainer's role is to teach the dog to do new tasks and also how to make decisions.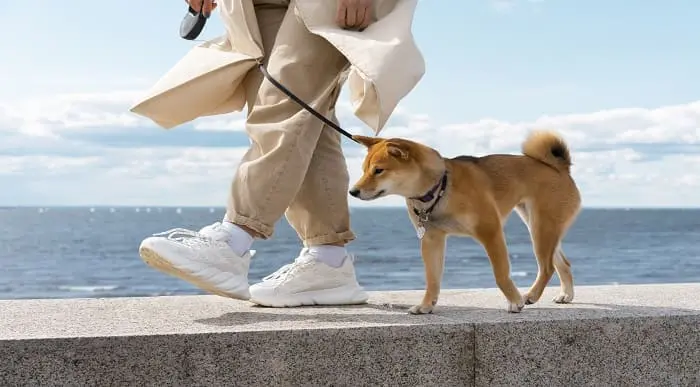 Dog Walking Courses Online Mega Bundle
Accredited Courses
Tutor Support Included
3 Installment Plan at checkout
14 Days Money Back Guarantee
How many years does a guide dog stay in service?
A guide dog can be with a person with sight loss for many years. Usually, they can support a person for up to eight to nine years. But it's not that every young dog makes it through training. Some don't make it through their training for a variety of reasons and are withdrawn. They become buddy dogs or companion dogs. Others may be rehomed.
---
Do Guide Dogs Cost Money?
At least in the UK, most of the organisations that train guide dogs are charity foundations. They often rely primarily on donations to run their training programmes. When a blind or a vision-impaired person applies for a dog, they are provided with a companion free of charge. Referrals can be made by health practitioners or directly by the person who is experiencing vision loss.
According to the Guide Dogs of America, The cost to ready a dog for service is $48,000. This monetary figure is quite the same for the UK too. Although the cost varies a lot depending on the location, generally it costs around £55,000. This figure is calculated by including every aspect, from puppy raising and basic obedience to formal training and beyond. It includes vet bills too.
Although not every organisation follows it, there are ways to keep the cost down a bit. One way of reducing the cost is to place the trainee dog with a family for evenings and weekends. This results in lasting benefits for everyone involved. To keep kennel costs down, some organisations actively encourage volunteer puppy raisers to look after the dogs whilst they are being trained. In addition, some families volunteer to become part-time guide dog 'sitter'. It's a cheaper and simpler alternative to having a pet dog.
However, if you want a breakdown of how the cost figures to train these dogs, let's give you an example. The following two headings are direct quotes from The Guide Dogs for the Blind Association, a charity organisation based in the UK.
"
Top Courses of this Category
How your money is helping

£34,600 to breed and train a single guide dog
£54,800 to support a guide dog from birth to retirement

How we spend your money

Adult and guide dog services
£8 could support a working guide dog partnership for a day.
£16 could buy a coat for one of our puppies in training.
£26 can buy a white harness, the iconic symbol of a fully qualified guide dog.
£116 can buy a Training School Kit for a guide dog trainer who teaches pups the specialist skills they will need to become a qualified guide dog.
£125 could buy a Starter Kit for a new guide dog owner, containing everything they need to start a life with their new guide dog.
£717 could pay for a sighted guide partnership for seven months, helping to build confidence and improve social interactions for a person with sight loss. That also includes training for family and friends so they can take their loved one out safely.
£891 could provide a person with sight loss with a personal plan, assessments, and training sessions to improve their independence and mobility skills, helping live the life they choose.
Carefully look at the figures presented by the aforementioned organisation. This is how most of the organisations that run similar programmes fund their programmes. They usually depend on generous donations from the public. Thanks to their efforts, blind and vision-impaired people are paired with a dog companion to make their lives a little bit easier.
---
Conclusion
Guide dogs are responsible for their vision-impaired handler safety while they are travelling around the community. They need to be quiet, well-behaved, non-aggressive and clean at all times. Unfortunately, not all dogs are the same. But guide dogs need to be consistent in their manner at least on the above-mentioned criteria. Thanks to the training that they receive, it is possible to make them suitable to be an ideal companion for the blind and the vision-impaired. Also, thanks to the generous donations from the public, "How much does it cost to train a guide dog?" isn't something that a blind person who may have financial issues have to be concerned about. If we think about it, in the end, the love and care that both the parties- the dog and his/her handler- receives is totally worth every penny that it costs for the whole arrangement.
---
What to Read Next: