Animal Care
One to One Dog Training – Everything You Need to Know
As a dog owner, you might have faced unwanted situations where your dog has started barking in a park seeing other dogs or went on chasing a child. All these are your dog's behavioural problems, which needs obedience training. As per The Guardian, "Hospital admissions for injuries caused by dogs have risen by 76% in England over the past 10 years, according to official statistics."
While there are many types of dog training, the most convenient form is the one to one training. It provides the scope of having customised sessions for your dog without any time restrictions. Learn more about this from this blog.
What is One to One Dog Training?
One to one dog training offers the opportunity to work on specific behaviour problems of dogs in a less stimulating environment. It is ideal for dealing with anxious dogs due to its realistic techniques and solutions.
According to the owner's needs, s/he can arrange it at their house. This can be perfect for owners who love the convenience of lessons in their own homes and for dogs who do not learn well in a class environment or a group.
---
What are the Benefits of One to One Dog Training?
There are a number of benefits of one to one puppy training, some of which are mentioned below.
Training at a convenient time
It allows the owners to fix a schedule with the trainer according to their convenience, unlike the group sessions. Many group classes run on weekends but, you might not want to get off your bed on a weekend morning to take your dog for a training class.
That is why one to one sessions are always preferable. This allows flexibility and at the same time, you can tailor your training sessions by discussing with the trainer to meet your exact needs and requirements.
Are you looking dog training course?
Do you wish to kickstart your career as a professional dog trainer? If yes, join the
accredited dog training course
of Lead Academy and start learning at your own pace. To avail the course at a discounted price, register now!
Training in a realistic environment
Your dog needs to be trained in the environment you will be using those skills. Dogs are not very good at grasping a skill at one place and transferring that to another. The training should occur in different areas. One to one training can be conducted in places like parks so that they can adapt to the environment.
You can also opt for one to one training to take place in your own home. This would help identify the every day at-home problems your family faces with the dog that might not have been apparent or addressed at a group class.
Training at your own pace
Group classes tend to go along the schedule prepared by the training providers, but some dogs need a little longer to work on techniques. One to one puppy and dog training classes can go at your own pace. If your dog needs to spend several sessions on a technique, then the trainer will cooperate accordingly.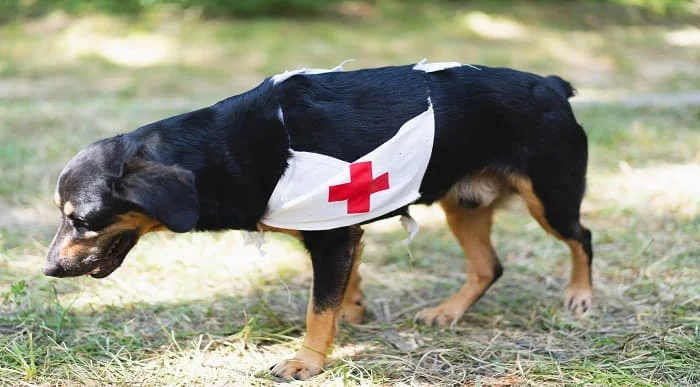 Dog First Aid Online Training Course
Accredited Courses
Tutor Support Included
3 Installment Plan at checkout
14 Days Money Back Guarantee
Training according to your dog's needs
A traditional group class often fails to take into account what you consider to be the issues or concerns. Trainers in one to one training will have review sessions before they proceed forward. This is a huge benefit since you would be able to ask questions and your dog would be coached based on your and your pet's preferred method and speed of learning.
---
What are the Issues Addressed in One to One Dog Training?
The one to one dog training course works on the various behaviour problems of dogs but, in general, can address the following issues-
Anxiety, aggression or fear
Recall
Walking on a loose leash and to heel
Chewing
Digging
Jumping up
Barking at other dogs or people
Running up to other dogs
Lunging towards other dogs
Mouthing and nipping
What's the Average Cost for Dog Training?
The cost of training depends on the type of training you choose, the training provider and the number of sessions it would require. However, as per bark, the average cost is £65 per session for one to one dog training.
Should You Train Your Dog or Get a Trainer?
There are lots of great books and online resources that can help you to train your dog at home. However, a quality dog trainer with experience will be able to accomplish more with your pet in less time. They will also teach you the best ways to keep up the good behaviour once the trainer is over.
Dog trainers can be helpful for dogs of different ages with different issues, from fear to aggression to problems mastering basic commands. If your dog exhibits any unusual behaviour that you are unable to take care of, you should go for a trainer. Hiring one shouldn't be considered as a reflection of your own failure.
The past experiences of dogs impact a lot in their behaviour. As Dr Wensley expressed to the BBC, "Problem arises when young puppies aren't exposed to everyday sights and sounds. They can be extremely anxious and fearful, and that will manifest as aggression." That's why early training is recommended to avoid future aggression and the best time to start can be while they're still puppies.
---
Conclusion
No matter what breed your dog is, how old he is or what his background is, dogs love learning and achieving. If your dog shows signs of any behavioural problems that are causing you trouble, take every chance to correct its behaviour.
However, if it gets difficult for you to take your dog for training sessions amidst your busy schedule, one to one dog training would be the best option for you.
---
What to Read Next: