Counselling & Psychology
How to Become a Physiotherapist – Step by Step Guide
"If you like maintaining a good balance in your life, connecting with people, movement and activity, helping and caring, I don't think you'll find a better profession than physiotherapy." – Dr Brad McIntosh, Managing Director at Sydney Physiotherapy Solutions.
Are you looking for a demanding, exciting, and creative job in healthcare? Do you enjoy the opportunity to help someone recover from an injury and improve their quality of life? Physiotherapy may be the field for you.
Physiotherapy is, in a word, amazing. It is unique in that it treats a broad range of illnesses. Physiotherapy helps transform the lives of people in pain. Physiotherapists make people feel better by reducing their pain and giving them confidence that they will recover quickly. They deserve the title of "transformers" as a result of their power to transform.
Would you like to learn more about how to become a physiotherapist? If so, read on.
What is a Physiotherapist?
If you've ever experienced an illness or injury that made it difficult for you to move around or do daily duties, your doctor may have advised you to find a physiotherapist to help you get back on your feet. A physiotherapist helps patients manage their pain, balance, mobility, and motor function.
Physiotherapists are essential for diagnosing and treating patients with physical issues due to illness, injury, disability, or ageing. They work to reestablish functionality as much as possible while reducing pain and enhancing movement with non-surgical methods. Physiotherapy can help people recover their freedom of movement and confidence.
Are you looking for a Professional Cupping Therapy Online Course?
If you are looking for a
Professional Cupping Therapy Online Course
that will set you up with a solid foundation to become a confident cupping therapist and develop more advanced skills, then look no further. We've got a course for you that will give you a competitive advantage in your career, making you stand out from all other applicants and employees.
Why Do You Be a Physiotherapist?
By becoming a physiotherapist, you can contribute significantly to helping individuals achieve better health, well-being, and quality of life. A key element of what it means to be healthy is the ability to move and function, and this profession helps people recognise and improve that ability.
Read on for a few more reasons why this is a top-notch career:
Physiotherapists maintain people's movement through a variety of specialities. For example, you can work with a sporting team, in rehab, with pregnant women and new mothers, or with the older people. You can enhance your skills by entering the fields of study and education.
In the area of physiotherapy, you will always be gaining new knowledge and helping others. Seeing clients succeed will always be satisfying.
Workplaces include nursing homes, schools, community health centres, and hospitals. Many physiotherapists perform their work from their homes, and some have started working online to reach patients from distant places.
First contact professionals
Because of society's great respect and trust for the profession, many people choose to see physiotherapists without a doctor's referral.
Professional and personal growth
Physiotherapists have lots of options for professional growth because their profession is changing all the time. The improvement of your sociocultural and communication skills, it can also help you grow personally.
Advocate for the voiceless
You can sometimes find yourself in a position to stand up for others who have a tough time being heard, such as members of minority people, older people, those with illnesses, and kids and young adults.
People-focused and holistic in its approach
Workplaces include hospitals, nursing homes, schools and community health centres. Many physiotherapists take out their work from their homes, and some have started working online to reach patients from far places.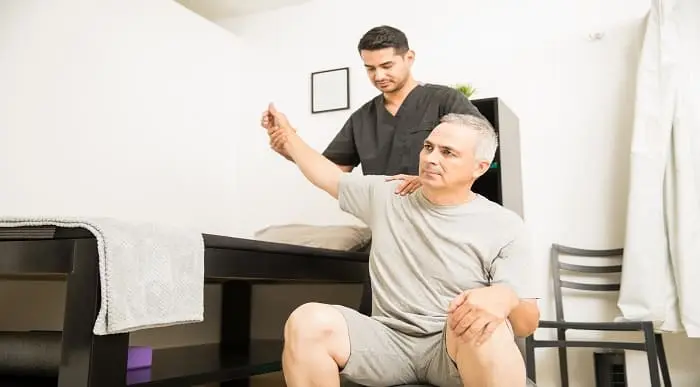 Diploma in Occupational Therapy Course Online
Accredited Courses
Tutor Support Included
3 Installment Plan at checkout
14 Days Money Back Guarantee
How to Become a Physiotherapist?
So now, let's dive into our step-by-step guidelines on how to become a physiotherapist in the UK! Here we go.
Educational Qualification
There are certain qualifications to be a physiotherapist. The most important requirement to become a physiotherapist is to earn a university degree. A part-time education will last six years, whereas a full-time degree may take three years. If you already hold a relevant degree, another option is a two-year Master's degree.
Typically, an undergraduate course's entry requirements are:
Two or three A levels, including biological science and PE.
Five GCSEs (grades A-C), including English language, maths and at least one science.
Or the equivalent qualifications:
A BTEC, HND or HNC, including biological science.
A relevant NVQ.
A science-based access course.
Equivalent Scottish or Irish qualifications.
A previous degree or a full professional qualification in a related area.
Apprenticeship
You can gain the experience needed to be a physiotherapist through an apprenticeship.
While physiotherapy apprenticeships are rare in the UK, a few universities do provide this route to certification (Coventry, Salford, Teeside, Sheffield Hallam, and University College Birmingham).
In order to have a job in an area related to physiotherapies, such as a physiotherapy assistant, physiotherapy technician, or rehabilitation assistant, and working at least 30 hours per week, you also should meet the entry requirements for any other physiotherapy degree.
You continue to get paid while you take two to three years to finish your degree. Typically, you'll work the other days and go to university 2–3 days a week, but this could change. Since this is a recent development, more locations are probably going to start offering this route in the future. So there is a greater expectation that you will study on your own time, so you must be highly motivated and able to learn independently.
Skills and Experience
Physiotherapists need different types of skills to perform their responsibilities successfully, which include:
Physical strength and stamina
Physical therapy requires lifting, turning, and sometimes manipulating patients' muscles and body parts, so physiotherapists must be physically fit to perform these tasks. Having enough stamina to stand for long periods of time is also necessary.
As a physiotherapist, you must have strong listening skills since you must pay close attention to your patients' concerns to understand how to best help them.
Also, you'll need to be able to communicate properly so that you can explain home physical therapy exercises to patients and speak to them about their conditions in a way they can understand.
Strong organisational skills are essential for the role of a physiotherapist because you'll need to develop and manage customised treatment programmes for each patient.
In order to give their patients the best care possible, physiotherapists often work with other medical specialists, which asks for the skill to perform effectively in a group activity.
A physiotherapist must have the patience to work with patients on long-term issues. You need to be sensitive to the fact that your patients can be in stress and in pain.
It's essential to create a caring environment where patients can be comfortable and to use your understanding to discover your patients' difficulties when they are unable to communicate with them clearly.
Provider and a desire to look out for others
Physiotherapists truly want to help people and improve their quality of life. You can be fit for a profession as a physiotherapist if you take pleasure in assisting others in improving their quality of life.
Understanding of patient confidentiality
Physiotherapists, like all other healthcare providers, must understand the value of patient confidentiality and only share information about their patients with their permission. Patients will be more comfortable discussing their issues with you if you create a trustworthy environment for them.
Business, administration and management skills
To successfully run your business, if you want to work as a physiotherapist in private practice, you'll need an understanding of company management and administration.
Professional Degree
Only a small percentage of physiotherapy graduates complete professional education. Before applying for a Masters (MSc) in a specialised field, many people prefer to first work for a number of years to enhance their professional skills.
Advanced physiotherapy in fields including sports and exercise, rehabilitation, neurorehabilitation, paediatrics, and neuromusculoskeletal physiotherapy are the popular areas of study.
There are also classes in animal physiotherapy offered. There are PhD chances if research is of interest to you.
Physiotherapists in practice are required to participate in continuing professional development (CPD), which includes classes, workshops, supervision, and reflective practice.
Top Courses of this Category
Duties and Responsibility
A physiotherapist's duties and responsibilities may change depending on their job type. Here are some common types of physiotherapists:
Paediatric physiotherapist
These physiotherapists work with children. The responsibility includes creating home exercise plans and making referrals to other professionals.
These physiotherapists focus on treating and preventing sports-related injuries. In addition, they are responsible for manual treatment and prescription strength training activities.
Pelvic floor physiotherapist
These physiotherapists are experts in women's health, especially in pelvic floor therapy. Their responsibilities include creating exercises to improve the patient's pelvic floor and offering guidance on moderation in a healthy lifestyle.
Patients with neurological illnesses, including Parkinson's and Alzheimer's, are treated by neuro physiotherapists. Depending on the disorder, their responsibilities may include developing treatment plans that clients can use at home to speed recovery as well as helping patients improve or recover their balance.
Cardio-respiratory physiotherapist
Cardio-respiratory physical therapists treat patients with heart and lung diseases, such as asthma. Their primary duties are around the treatment and reduction of these problems.
A physiotherapist's schedule and area of responsibility can also differ. While physiotherapists typically work standard hours, it's not uncommon for some of them to perform evening or weekend shifts. These are some of the typical tasks and duties of a physiotherapist, but they change depending on their position and place of employment:
Performing massage therapy
Performing patient evaluations
Giving ideas and advice
Working with physicians and other healthcare professionals
Developing individualised treatment plans
Finding and fixing issues
Providing consultations
Salary and Facilities
According to Prospects, with the correct mix of skills, knowledge, and experience, it is possible to earn a salary of about £75,000 in private practice.
Salary raises to more than £63,000 for management positions like head of the service.
Clinical expertise, extended scope, and clinical lead physiotherapists typically make between £45,753 and £51,668 per year, with consultant physiotherapy roles paying between £53,168 and £62,001 per year.
Earnings as a clinical specialist or team leader earnings range from £38,890 to £44,503.
Physiotherapists with a degree typically earn starting salaries between £24,907 and £30,615. Senior physical therapist salaries range from £31,365 to £37,890.
FAQ
How does a person become a physiotherapist?
A person can become a physiotherapist by following the most popular path, which is a university degree.
How many years does it take to be a physiotherapist?
A part-time education will last six years, whereas a full-time degree may take three years. If you already hold a pertinent degree, another option is a two-year expedited Master's programme.
Is being a physiotherapist hard?
Yes, it's hard. But this career path is extremely rewarding, especially once you start doing placement and things begin to come together.
Is a physiotherapist a doctor?
No, a physiotherapist is not a doctor. They promote health and well-being through education, physical activity, and a variety of other therapies.
What is the job of a physiotherapist?
A physiotherapist's job is to help patients who are physically inactive due to disease, accident, disability, or ageing.
Do I need maths to study physiotherapy?
No. Mathematics is not required for studying physiotherapy.
Can I study physiotherapy part-time?
Yes. Many physiotherapy courses are available for part-time, online, or distance learning study.
Where do physiotherapists work?
They may work in a clinic, hospital, nursing home, or rehabilitation facility, or they may go to the patient's home.
What is a physiotherapist's salary in South Africa?
According to Safacts, in South Africa, the average salary for a physiotherapist is about 56,900 ZAR per month.
Is neet required for physiotherapy?
No. Neet is not required for physiotherapy.
Conclusion
In short, the medical field of physiotherapy is well-known and respected. As a physiotherapist, you will be in charge of helping those who are physically unwilling to perform the activities they would like to return to feeling their best.
There is no such thing as an ordinary day in physiotherapy because you can help people of different ages and socioeconomic backgrounds.
As you continue to learn and grow in your practice, you will be improving the quality of someone else's life and creating valuable changes and improvements that will benefit both you and your patients.
There are many reasons to enter the physiotherapy profession, but if you are caring and willing to learn more and improve your career, this is the route for you.
I hope this article has given you a better understanding of how to become a physiotherapist