First Aid
How Long Does a First Aid Certificate Last For?
Just imagine, in the middle of work, all of a sudden, your colleague has excruciating chest pain and he falls off his chair being senseless. What are you going to do then? Wait for the ambulance, watch him suffer or just do nothing?
Under such a circumstance, your first aid knowledge comes to the rescue. Whether you are a medical professional or belong to a non-medical background, your first aid training along with the certificate would ensure that you are capable of providing emergency treatment to a patient during the hours of need.
But, how long does a first aid certificate last for?
Know about the types of first aid certificates, its validity and the renewal process from this blog. Undertake a First Aid Course and be a hero in someone's life!
What is First Aid?
First aid refers to the immediate care provided when a person suddenly gets ill or injured until complete medical treatment is available. While first aid care may be enough for minor conditions, for serious or fatal conditions, first aid care should be continued until advanced treatment becomes available.
---
What are the Different Types of First Aid Certificates?
There are different first aid training courses available like first aid for the workplace, standard first aid training, basic life support training and so on. Depending on what you do and whether you are a medical professional or from a non-medical background, you have to decide which training course you want to go for.
Upon completing your desired training course, you can opt for your certificate. The following gives an insight into the different types of first aid training courses.

Are you looking for a paediatric First Aid course?
Are you interested in a paediatric First Aid course? Now you can join the online 

Paediatric First Aid course

 offered by Lead Academy and learn how to provide first aid to the kids from the comfort of your home.
First Aid at Work
The three-day-long first aid at work course is the qualification required to work in highly hazardous environments. This course gives a thorough first aid knowledge and practical skills.
This course covers how to deal with a variety of minor and major illnesses along with dealing with situations like fainting, spinal injuries, stroke, chest pains, heart attack and other medical problems that may arise at work.
Emergency First Aid at Work
The Emergency First Aid at Work is a one-day long course suitable for those who work in small, low hazard work environments. This course provides the skills you need to deal with any emergency first aid situation.
Completing the course, you will know what to do in various emergency first aid situations like cuts, burns, broken bones, bleeding and shock. You will also learn CPR and the recovery position and how to apply bandages.
Standard First Aid Training
The Standard First Aid course is a two-day training course that focuses on emergency first aid and CPR as a foundation, as well as extended life-saving measures for everyday emergencies.
This course will teach about circulation emergencies, breathing emergencies, diabetic emergencies, childbirth, choking, CPR, and AED usage.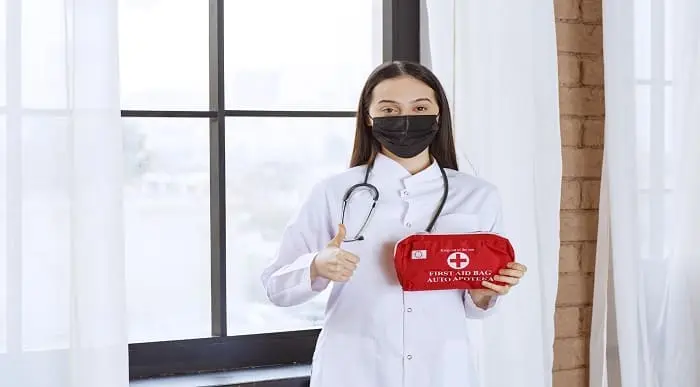 Paediatric First Aid + 3 ChildCare Courses Bundle
Accredited Courses
Tutor Support Included
3 Installment Plan at checkout
14 Days Money Back Guarantee
---
Basic Life Support Training
The Basic Life Support (BLS) Training is a first aid training certification for those who work in healthcare departments or wellness settings. This training focuses specifically on resuscitation and CPR skills needed in times of cardiac arrest, choking, etc.
If you are working in the healthcare sector, certification is often mandatory to ensure that you can help patients in times of emergency with the latest skills. In this course, you will learn scene and victim management, circulation emergencies, CPR, AED usage, health care provider related skill sets and much more.
---
How to Obtain a First Aid Certificate?
In order to obtain a First Aid certificate, you must undertake first aid training courses. You can either take an online or an offline course and gain the necessary skills. The course for basic first aid knowledge usually covers topics like wounds, burns, fractures, heart attack, asthma emergencies, stroke, seizure and so on.
Once you have completed all of the course modules, you need to sit for an exam that will test your knowledge on the above topics. After passing the exam, you can obtain your certificate.
---
Do You Need a First Aid Certificate?
Your First Aid certificate is not a mere piece of paper. Having a first aid certificate means you have undergone proper training with which you can contribute to responding quickly and appropriately during medical emergencies.
A first aid certificate can make you more attractive to certain potential employers. Your certificate would prove that you know how to administer cardiopulmonary resuscitation (CPR), use an automated external defibrillator (AED), and handle life-threatening situations like choking, heavy bleeding, a heart attack or stroke.
If you want to work as a first aider at your workplace or any other organisation, you must undergo appropriate training to obtain a certificate. This is because the ones with complete training and certification are more trustworthy as they always remain prepared to respond to any emergency.
Furthermore, undertaking a training course would give you the confidence to deal with a situation calmly instead of taking fright.
Top Courses of this Category
---
How Long does a First Aid Certificate Last For?
A first aid certificate usually remains valid for 3 years from the date of issue. At the time of renewal, you need to take a refresher course to get your new certificate. The refresher course should be completed within 28 days of the expiration date of your previous certificate.
---
Does a First Aid Certificate Expire?
The answer would be both yes and no, depending on the situation. If you are a designated First Aider in your workplace and your First Aid certificate is your employer's requirement, then you need to renew your certificate prior to the expiry date.
On the other hand, if your First Aid certificate is purely for personal reasons and not for workplace obligations, then there is no regulation for your certificate renewal.
---
How Would You Know If Your First Aid Certificate has Expired?
You need to keep an eye on the date on which you have completed the first aid course. Your certificate's expiry period would typically be three years from this date. If you lose or misplace your certificate, you would need to find the details of your training by contacting the organisation in which you have completed your training.
---
Why Do You Need to Renew Your First Aid Certificate?
You might wonder why you need to renew your First Aid certificate after every three years once you have achieved it. Some might often find the entire process tiresome. Well, if you want to keep your training and certificate valid, you have to go through the renewal process.
It is necessary to update your First Aid certificate regularly so that you can be informed of the current First Aid guidelines. This would lead you to remember and maintain your First Aid skills and knowledge and to provide the First Aid when needed.
---
How To Renew Your First Aid Certificate?
Your First Aid certificate can be renewed 90 days before the expiry date, and the new certificate can be used once the old one expires.
You will be required to take a full day course for your certification renewal process if you have an emergency first aid at work certificate. However, if you have a standard first aid at work certificate, you only need to do a two-day refresher course.
If you do not renew your first aid at work certificate within 28 days of expiry, you will be required to retake the entire course instead of the two-day refresher course.
Develop Your Team to Lead The Industry
Get fully accredited thousands of high quality online courses taught by the world's leading experts suitable to companies of all sizes.
What is a First Aid Refresher Course?
A First Aid refresher course is taken to update your existing First Aid knowledge. Along with refreshing the prevalent knowledge, a First Aid refresher course also adds some new information to your current apprehension.
A refresher course might include new skills and methods of improving performance, the likes of industry changes and laws and legislation. The refresher course is supposed to be undertaken by a certificate holder to bring his knowledge into focus again.
---
First Aid Refresher Courses
It is strongly recommended by the HSE (health, safety, and environment) to take annual refresher courses even though you need to renew your certificate once every three years. The three-hour-long refresher courses would remind you of all the essential parts of the first aid training like treating unconscious patients, dealing with wounds, manual handling and delivering CPR (Cardiopulmonary resuscitation).
You can join your desired First Aid courses from Lead Academy
---
Conclusion
This blog has covered all the necessary details regarding the first aid training and certificates. If you want to be a first aider in your workplace or have the basics of first aid for helping people, remember to choose the training that best suits you and don't forget to update your certificate after every three years.
What to Read Next: