GCSE
What are GCSEs? Everything you need to know
What are GCSEs? It's probably the most commonly typed question on the internet search bar these days. As GCSEs are gradually getting popular, students, parents and professionals from all fields are becoming curious to know more about this particular qualification.
So, to help you with all your queries related to GCSEs, we have come up with this blog. Learn about GCSE courses, GCSE grading system and other relevant details from this blog.
What are GCSEs?
In the UK, a student's education is divided into four Key Stages. The last of these stages is the Key Stage 4 (KS4) which comprises students between the years 10 and 11.
The qualifications that most students prefer during the Key Stage 4 are called GCSEs. The acronym 'GCSE' stands for General Certificate of Secondary Education.
GCSEs are studied over a two-year period of time and are assessed by written exams at the end of two years of study. However, some courses also require a small amount of coursework.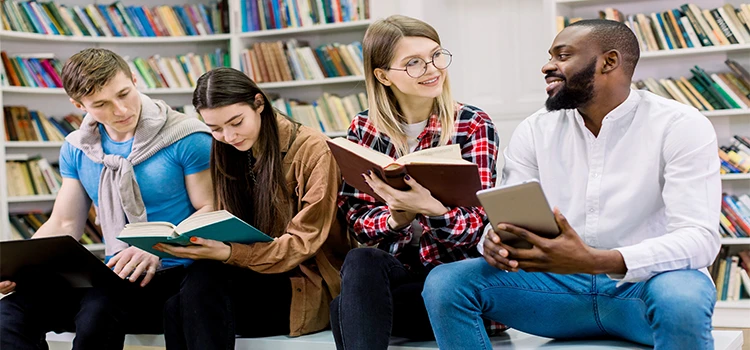 When was GCSE introduced?
GCSE was first introduced in September 1986. This qualification replaced the original O-Levels and CSEs, which were the qualifications studied before 1986.
Are you looking for GCSEs online courses?
If attending classes physically is not your thing, consider enrolling in the
GCSE courses
offered by Lead Academy. You can find our GCSE courses from advanced to foundation tiers and study flexibly according to your convenience.
What year do you do GCSEs?
GCSEs are usually taken by the students in the year 10 and 11 and between the ages of 14 and 16. The first year and a half of GCSEs are usually spent learning the content while most of the assessments and examinations take place at the end of year 11.
What are the compulsory GCSE subjects?
GCSE candidates are allowed to choose the subjects, however; there are some compulsory subjects that they need to study at Key Stage 4. They are-
English (English Language and English Literature)
Mathematics
Science (Biology, Chemistry and Physics)
Social Studies
Physical Education (PE)
There are usually no assessments in Social Studies or Physical Education. These subjects are recreational and have been designed to keep students updated about the modern world.
What are the optional GCSE subjects?
The GCSE options for subjects are many from where students can study according to their preferences. They are-
The Arts: Art, Dance, Music, Photography, Media Studies, Theatre Studies, etc.
Business: Business Studies, Finance, Economics etc.
Design and Technology: Engineering, Graphic Design, Product Design, Textiles etc.
The Humanities: History, Philosophy, Geography, Politics, etc.
Modern Foreign Languages: French, German, Spanish, etc.
Sciences: Psychology, Sociology, Sports Studies, etc.
GCSE grading system:
Initially, GCSE courses were graded in letters as opposed to the numerical grading system used now. A, B, C, D, E, F and G were the pass grades, and the letter U was given for an 'unclassified' grade.
A-C grades in the letter grading system were known as the standard pass. Later on, the A* grade was added as the highest level of GCSE grades to show that a student has performed exceptionally well in a particular subject.
As a part of the 2014 curriculum, the numerical grading scheme was introduced by Education Secretary Michael Gove. It was introduced to put less emphasis on GCSE coursework than before, with grades in almost all subjects decided in final exams.
According to BBC, "The qualifications were designed to be more challenging, with exams taken after two years of study. Previously pupils covered the syllabus through a series of modules with regular assessments throughout the course."
Old Vs New Grading System:
Old grading system
New grading system

A*

A

9

8

7

B

C

6

5 (Strong pass)

4 (Standard pass)

D

E

F

G

3

2

1

U
U
However, the number scale is not directly equivalent to the old letter one. The two scales do meet in certain places:
the bottom of grade 7 is aligned with the bottom of grade A
the bottom of grade 4 is aligned with the bottom of grade C
the bottom of grade 1 is aligned with the bottom of grade G
three number grades 9, 8 and 7 correspond to the two previous top grades of A* and A
How many GCSE subjects can a student take?
A student must take at least five subjects at GCSE. Usually, the school helps students to determine how many subjects they should choose, which could be as many as twelve.
The choice of taking more than the usual number of GCSE subjects depends on the student's academic capacity and the school's resources to assist them.
How long does it take to complete GCSEs?
The length of GCSE courses depends on the setting you're studying them. In a traditional school setting, if you take a number of these at once, they will take 2-3 years to complete depending on the school and subjects studied.
Again, if you take adult GCSE courses and study them part or full-time in a college setting, the time to finish will depend on the individual college programme.
However, full-time students can complete standard GCSEs over two years or GCSE short courses in just one year. If you are doing it online, it might take as less as six months to complete GCSEs.
Top Courses of this Category
Can you do GCSEs online?
The quickest way to be done with your GCSEs is doing it online. With online GCSE courses, the materials for the entire course become accessible online so that you can study at your own pace. The best part is, you can move to the next module once you are ready; you do not have to rush to keep pace with your classmates.
Are you looking for online GCSE courses? Lead Academy offers Pearson Edexcel and AQA-accredited GCSE online courses that are widely accepted by universities across the globe. In addition to our GCSE Maths, Biology, Physics, Chemistry and English courses, we also help you in booking your GCSE exam!
Are GCSEs important?
Your GCSEs can have a significant impact on your future studies. In the UK, GCSEs are considered as the first major academic qualification of your academic journey.
Your final GCSE scores will decide which A levels you can study and where. Some universities also look at your GCSE marks as a part of their admission process, while some employers may also ask for your GCSE completion certificate during recruitment.
So, you must take your GCSEs seriously to secure the best grades and pursue your future endeavors.
FAQs:
What are GCSEs?
GCSEs are academic qualifications that is a part of the National Curriculum of England, Wales or Northern Ireland. 'GCSE' stands for General Certificate of Secondary Education and is taken by students aged 14-16 at the end of year 10 and 11.
What level are GCSEs?
GCSEs are classified as a level 2 qualification taken during secondary school.
What are GCSEs in Scotland?
In Scotland, instead of GCSEs, students take National 5s, which are fairly similar to GCSEs.
What are GCSEs in America?
In the USA, the General Educational Development test is equivalent to the GCSE in the UK.
What month are GCSEs taken 2023?
GCSEs are expected to start on 15th May 2023 with the final exam due to take place on 27 June 2023.
What are the best GCSEs to take?
Apart from the core subjects, the most popular GCSE options are Art, History, Geography, Design and Technology, French and other modern languages.
What are the hardest GCSEs?
According to the latest official UK government data, based on 2021/22 Key Stage 4 performance, Film Studies, Engineering, Food Preparation and Nutrition, English Language and Literature have been recognised as the hardest GCSE subjects.
Conclusion:
No wonder GCSEs are an important part of your secondary school and plays a crucial role while planning your future. If you read the blog, you have come through everything you needed to know about GCSEs including the duration of its completion and also the new GCSE scoring system. Hopefully, there's no more confusion about GCSEs!
What to Read Next: