Personal Development
How to Become a Plumber
If you are in a dilemma about choosing a career and looking for something that allows you to become your own boss with minimum investment, then 'plumbing' can be the right career for you. While many might not be interested in becoming a plumber, know that almost every home and industry requires a plumber during construction and when they face a plumbing crisis, so this job is always in demand.
Plumbing can often be an exciting and varied job, providing an opportunity to meet many people and work on various projects.
So, if your question is, how to become a plumber? This comprehensive blog will surely resolve all your concerns.
Anyone can prosper in this field with the right qualification and business knowledge. Forbes suggests in an article how plumbers can improve their SEO and take advantage of the constant stream of customers. To clarify, this is one out of many tactics to grow your plumbing business.
Furthermore, you can also work as an employee in different organisations, ranging from educational institutions to military services, if you do not prefer self-employment. Learn more from this blog about how this career path can benefit you.
Who is a Plumber?
According to Merriam-Webster, "A plumber is someone who installs, repairs, and maintains piping, fittings, and fixtures involved in the distribution and use of water in a building." Moreover, plumbers can be involved in analysing and solving malfunctioning systems, interpreting blueprints and helping make the installation process more efficient. They can either work with repairing existing plumbing systems or install systems in newly constructed buildings.
What does a Plumber do?
How to get more work as a plumber?
When it comes to plumbing, people only trust those with skills and understanding of the field. If you also wish to get more work as a plumber, you must show your customers that you are trained enough to perform your job. To become a certified plumber, join the
online plumbing courses
offered by Lead Academy and start learning from the comfort of your home.
Installing hot and cold water, sanitation and drainage
Installing and fixing domestic appliances like showers, dishwashers and washing machines
Installing heating systems
Cutting and joining pipes and fittings
Dealing with emergency callouts like boiler breakdowns or blocked drains
Finding and fixing faults
Assessing sites to give cost and time estimates to clients
---
What are the Skills of a Plumber?
A plumber should have various skills ranging from specific job-related knowledge such as types of pipe fittings and their usage to soft skills such as communication skills. Some of the noteworthy skills of a plumber are-
Mechanical skills
Plumbers should be adept at using various machinery and tools to ensure projects are completed efficiently, effectively and safely. They might need to troubleshoot issues on the job by using tools and equipment creatively. Understanding how to manipulate physical objects is important for a hands-on job like plumbing.
Plumbers need to have the ability to identify problems, diagnose the cause of the problem and provide solutions. They often need to go through the problem-solving process quickly while they are in the middle of a project. This requires swift, analytical and logical reasoning and creative thinking.
Administrative skills
In addition to hands-on work, plumbers require learning basic computer programs such as word processing and spreadsheet programs. They also need to know how to use company-specific programs or software such as project management or budgeting programs.
Plumbers may also need to write reports and for that, they require having a basic knowledge of proper spelling, grammar and vocabulary. They may need to perform tasks that require organisational and planning skills such as-
Tracking expenses
Taking inventory
Ordering supplies
Planning project calendars
Communication skills
Plumbers usually work with different people throughout a project, which might include supervisors, suppliers, company owners, clients and so on. They need to explain complicated ideas and processes to laypeople and discuss expected timelines and costs. As such, they should be able to communicate effectively and professionally.
If you have great communication skills and are looking for job opportunities, you should definitely check out this amazing blog.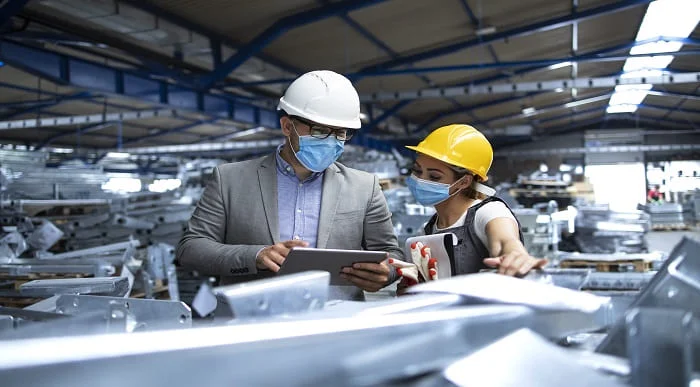 Workplace Health & Safety Training Course Online
Accredited Courses
Tutor Support Included
3 Installment Plan at checkout
14 Days Money Back Guarantee
What are some of the Attributes of a Plumber?
Plumbers are expected to be athletic, persistent, and thrifty. Some of the key attributes of a plumber are-
Physical Strength
Carrying and working with pipes, usually in tight and confined spaces, requires a lot of strength. You need to hold up pipework, appliances, or toilets and keep pipe fittings steady while having good control of your hands to manipulate small objects. That is why plumbers need to be physically strong and fit.
Good Vision
Plumbers must possess good vision to thread fittings, read small gauges, and interpret blueprints.
Fine Motor Skills
Plumbers work with small tools and parts and need well-developed fine motor skills to place, fasten and operate these elements effectively.
Flexibility
An adept plumber has flexibility and is able to reach the appropriate areas, which are often under cabinets, underground and in other confined places.
Types of Plumbers
Commercial plumbers
Service and repair plumbers
Residential plumbers
Sanitary plumbers
Water supply plumbers
Commercial plumbers
Commercial plumbers work in commercial settings, such as colleges, schools, and manufacturing plants. Further, their responsibilities might include repairing and maintaining tanks and pipes in a commercial setting.
Service and repair plumbers
This type of plumber works in commercial and residential settings. They are the ones who also remain responsible for the maintenance and repair of plumbing systems. In addition to this, they might fix leaks, eliminate clogs, and clean plumbing systems and fixtures.
Residential plumber
Residential plumbers maintain and repair plumbing fixtures and pipes in a residential setting, where they do small-scale plumbing jobs and work with things like water systems, pipes, and toilets.
Sanitary plumber
These plumbers work in the area centre on sanitary systems. Most of them work in residential settings unblocking and clearing jams in the home sanitary system.
Water supply plumber
The water supply members work on water tanks, bathroom tanks, overhead storage tanks, and pipes. They install water supply systems and perform basic residential plumbing duties.
How to Become a Plumber?
You can choose two routes to become a plumber in the UK. One of them is applying for an apprenticeship and the other is enrolling in part or full-time plumbing courses.
Enrol in a Plumbing Course
Many colleges across the UK offer courses to start your career as a plumber. Some courses are designed for people with no plumbing experience at all, while others are designed for people with some experience.
The courses will equip you with some practical plumbing skills, industry safety and health, and general plumbing knowledge. Always check whether the courses are accredited by an awarding body such as City and Guilds, EAL and BPEC.
For enrolling in a plumbing course, you will need-
2 or more GCSEs (or equivalent) at grades 9 to 3 (A* to D) (level 2 course)
4 – 5 GCSEs (or equivalent) at grades 9 to 4 (A* to C) (level 3 course).
There are different recognised plumbing apprenticeships in the UK, where you can join according to your preference for the type of plumbing work.
Gain Work Experience
Work experience is essential to gaining employment within the plumbing industry. You can gain experience by working on weekends and holidays with a company. If you have GCSEs (or equivalent), including English and Maths, along with good practical skills, you might be able to work as a plumber's mate, trainee or assistant.
Work Environment
Plumbers typically travel to different work sites every day to perform their jobs in homes, offices buildings, and factories. They mostly work in tight and confined indoor spaces, but some may also work outside, for an architectural firm or on a construction site.
Many plumbers are self-employed or work for a small business employing less than ten people, though some might find working for larger entities. Plumbers have to deal with a lot of emergency services, meaning sometimes they might get a call at 5 a.m. from a frantic customer with a broken pipe. They also perform routine installation services, such as installing a new dishwasher or toilet into a home.
Lastly, plumbers have a considerable amount of routine maintenance appointments, which consist of evaluating a home or commercial plumbing system and assessing them for necessary repairs or services.
Working Hours
The standard working hour for plumbers is eight hours a day or 40 hours a week. However, as with most construction careers, there are times that will require a plumber to work overtime in the evening and on weekends. Though, these additional hours vary depending on the sector and region you work and what is required from one project to the next.
---
Who are the Employers?
Plumbers can either be self-employed or can work for institutions like-
Municipal Buildings
Military
Schools and colleges
Airports
Cruise ships
Yachts
Recreational vehicles
How Much Does a Plumber Make?
The salary of a plumber depends on location, employers and any overtime they may do. According to payscale, "The average salary for a Plumber is £11.10 per hour or £25,241 per year."
As per talent.com, "Experienced plumbers make up to £38,452 per year."
The following table shows the differences in the pay of plumbers by location-
---
Is Plumbing a Good Career?
Plumbing is often considered an inferior job due to the stereotypical attitude towards it. Many consider it as a 'mere' work of working with taps and toilets. However, it requires creativity when it comes to designing and installing plumbing systems. Further in this blog, find out the reasons below to know why plumbing is a good stream of career.
Job security
While there are certain positions that are becoming obsolete due to advancements of technology, there are some other positions as well which will keep ticking along despite whatever challenges are tossed in their direction. One of those is the plumbing industry. When stuck with a faulty pipe or sink, residents and businesses will always require plumbers. As a result, there is long-term job security when it comes to working as a plumber.
Earning while learning
There are many ways to gain a plumbing qualification, but the apprenticeship route is particularly popular. Apprenticeship means you jump straight into paid employment in the industry, earning a salary while gaining academic skills.
Self-employment
If you do not prefer working as an employee under the supervision of an experienced supervisor, becoming a plumber can lead you to an entrepreneurial path. Once you finish your course and gain relevant experience, you'll have the expertise required to start your own business.
When you become your own boss, you can determine your amount of charge, your hours and who you work with. Furthermore, you can even continue your education with a business and management qualification.
---
Conclusion
Did you know plumbers were the busiest tradespeople in 2020? According to a new survey conducted by Rated People and Vanarama, 1000 people were questioned to find out which trades were most in-demand in 2020. Of all the tradespeople that were called out to homes last year, plumbers were in the highest demand, with 23% of all calls being made for plumbing-related issues. Lastly, this can be exciting news for those interested in taking on the trade.
So, leave behind all your doubts and take the first step to become a plumber today!
What to Read Next: