Personal Development
How to Become a Personal Trainer
A personal trainer is responsible for providing clients with tailored health and exercise advice. As people are now genuinely concerned about their health and fitness, it can be easily assumed that the personal trainers have a busy schedule these days. If you are also thinking of starting a career as a personal trainer, this blog can guide you to the route.
"Personal Training" is not just about putting someone through an intense workout; it is also about becoming a mentor, a motivator, and a friend. But, what can get you clients? Building a solid reputation through your hard work, dedication and positive branding is what going to bring you clients. You can have a hundred certifications in your pocket but, without a plan for your business, you will never get to utilise them.
So, how to become a personal trainer? This blog will help you to find the answer.
Who is a Personal Trainer?
A personal trainer is someone who remains responsible for helping their clients to achieve certain fitness goals, such as weight loss, strength training, toning, or overall health management.
Personal trainers help clients reach their goals by delivering a fitness programme that is specifically tailored according to their needs. The sessions mostly take place in a gym environment, but in modern days, training can also be done at home with an online personal trainer.
---
What is the difference between a 'Gym Instructor' and a 'Personal Trainer'?
You may have come across the terms "gym instructor" and "personal trainer" countless times if you are considering a career in the fitness industry. The skills and responsibilities of a gym instructor and a personal trainer might seem similar, but they do have differences.
Below is a brief overview of some of the responsibilities of a gym instructor and a personal trainer that might help you identify the differences between them.
| | | |
| --- | --- | --- |
| Duties | Gym Instructors | Personal Trainers |
| Showing clients how to use equipment | ✓ | ✓ |
| Carrying out basic equipment maintenance | ✓ | ✓ |
| Leading group classes | ✓ | ✓ |
| Creating personalised plans for clients | __ | ✓ |
| Meeting clients for one-on-one sessions | __ | ✓ |
| Working with clients having higher risks | __ | ✓ |
| Providing emotional support to clients | __ | ✓ |
---
What are the Qualities of a Good Personal Trainer?
Being a personal trainer requires having a special set of qualities. The following gives an insight into those qualities.
They are Adaptive
Personal Trainers meet different people and personalities, so they should stay flexible in their approach and ensure that they can be adaptive to individual needs and wants. Personal trainers must have the willingness to assist and respond appropriately to clients.
When the training becomes difficult for a client or they lack the necessary motivation to follow the program through areas of challenge, the personal trainer should offer adequate support and encouragement and also change things up for clients if necessary.
They are capable of Educating their Clients
The fitness industry is constantly changing and evolving, so it is crucial for personal trainers to stay updated with the latest training trends and research. They can pass on fitness-related information to their clients by doing this.
As a trainer, you have to explain things like anatomy, proper form and exercise selection to your clients. As such, pursuing your own professional development is vital. Attending workshops, completing short courses, and attending fitness events can help you to upgrade your knowledge.
They are Effective Communicators
The best personal trainers not only know how to help you achieve specific fitness goals, but they are also able to convey the fitness tips in a way that is easy to understand and makes sense to their clients. Strong communication skills is not only about speaking to the client on the gym floor but also about communicating effectively through channels such as text, email or phone calls.
They are Good Listeners
It is very important for personal trainers to listen to their client's problems and requirements. They should also be receptive to their client's feedback about the workout. The more the trainers know and understand about their clients, the better they will be able to help them.
They are Patient
Fitness training  is a journey that has many obstacles, frustrations and setbacks that occur along the way. A good personal trainer is patient and accepts the fact that everyone is different and so is their progress rate. It may take some time to understand what a client is trying to achieve; however, once this is understood, the process of creating a customised training program can be much easier.
They are Passionate
Being passionate is the prerequisite to being successful in any field, and the fitness industry is no exception. Fitness trainers must have a passion for fitness and a passion for helping others achieve their fitness goals. If you bring positive energy to your sessions, your client will reflect this.
They are Able to Motivate
No two clients of afitness trainer would be the same. Fitness or personal trainers frequently need to adopt a wide range of motivational styles that cater to their clients' different needs. While one client may be really driven by an interactive approach, another may find this irritating and switch off.
By engaging with clients on an individual level, you can communicate your expertise and positivity that would maximise their motivation.
They are Professional
Displaying professionalism as a personal trainer includes things like being punctual, dressing appropriately, and presenting yourself as a healthy, active person. If you set a good example, your clients will likely follow you.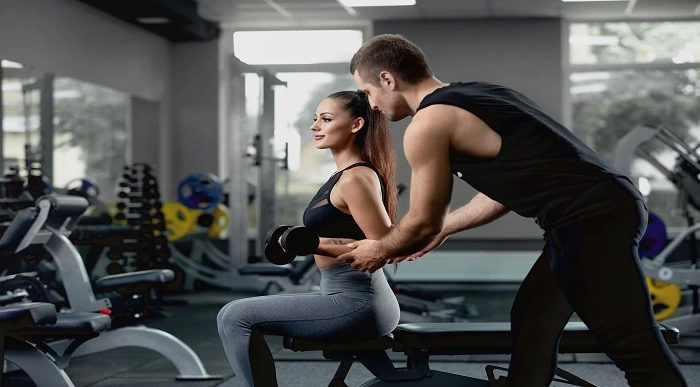 Fitness Trainer Training Course
Accredited Courses
Tutor Support Included
3 Installment Plan at checkout
14 Days Money Back Guarantee
What are the responsibilities of a Personal Trainer?
The key responsibilities of a personal trainer may include-
Conducting fitness assessments with new clients
Modifying exercises according to clients' fitness levels
Monitoring the client's progress
Helping clients with their workouts
Creating tailored exercise plans
Offering advice on nutrition and lifestyle
Analysing information relating to individual clients
Seeking and providing feedback in a manner which suits each individual client
Creating and maintaining positive, professional and trusting relationships with clients
Attracting and retaining clients
---
Who are the Employers?
There are a number of employers in the personal training field, giving you the opportunity to work for. These include:
Gyms and personal training studios
Leisure centres
Health clubs
Hotels, resorts or spas
Cruise lines
Health care charities
Freelance work in a gym or client's home
 Working hours
If you are a personal trainer, working hours would depend on whether you are employed by a gym or are self-employed. You will need to be flexible in order to meet the needs of your clients and so you might have to work in the early mornings, evenings, and weekends.
If you are a newcomer trying to build up your client base, it's not unusual to work even for 12 hours a day, which will include working with existing clients while also trying to get new ones.
---
The Three Main Streams of Personal Training Career
With your fitness training qualification, you will have a couple of options when it comes to choosing your career path. The three main streams of a personal training career are-
Working in a Gym
Within this role, you will be employed directly by an organisation and have a pre-existing client base made up of gym members. Working in a gym means you will have a fixed wage.
If you choose to work for a gym, your working hours would be rigid. You would be responsible for taking group classes, 1-to-1 sessions, and hosting gym inductions for new members.
This option is flexible for newly qualified personal trainers who do not have to worry about fluctuating income that depends on the number of clients they have or would have.
Freelancing for a Gym
Working for a gym on a freelance basis offers you a little more freedom once you have a considerable amount of reliable clients.
If you choose this path, you have to pay ground rent to a health and fitness facility, and in exchange, they will allow you to use their facilities to train your clients.
Your wage and working day here will be less prescriptive as you can enjoy full control over the kinds of classes you run and the number of clients you train.
Working as a freelancer, you will get more independent opportunities and so you will have to dedicate more of your time to marketing and administration, as you would be responsible for running your own business.
Working as an Independent Trainer
If you choose to become an independent trainer, you will have complete control over your working hours and job structure. As an independent trainer, you can buy your own equipment, open up your own gym and work from several locations.
Independent trainers tend to make more than any other career path, but success comes with a lot of effort and with a bit more risk.
---
What are Required Skills & Qualifications of a Personal Trainer?
It is recommended for personal trainers to have some specific skill set such as patience and efficiency. Personal trainers need to be patient as they will be teaching others. Also, if a personal trainer himself is not efficient, he would fail to train and motivate his clients. Along with these, they need to be a good listener to understand what their clients expect from them.
Besides the above mentioned skills, the basic personal trainer qualifications include knowledge of English, Maths and Information Communication Technology (ICT). You can enhance your skills and expertise by learning accredited and renowned personal trainer certification online.
---
How to Become a Personal Trainer?
Apart from possessing the right characteristics, the most important thing you need to be a personal trainer is the right qualification and certification. Keep reading below to know more about how to become a personal trainer.
There are two qualifications that every personal trainer needs to start practising in the UK, which are-
Level 2 Fitness Instructor certificate
Level 3 Personal Training certificate
Level 2 Fitness Instructor Certificate
Also known as a level 2 certificate in gym instructing, this qualification allows you to work as a gym instructor. Most of the personal trainers begin their journey from here.
There are no entry requirements to get onto the level 2 fitness instructor course. If you are at least 16 years old, you can easily enrol in the course. The course content is equivalent to GCSE-level study. If you study part-time, the course can take around 6 weeks, but if you study full-time, it takes 8 days.
The qualification comprises modules in detailed anatomy, the principles of exercise, health and fitness, health and safety for clients, supporting clients, and planning exercise programmes.
Having passed this qualification, you can become a certified fitness or gym instructor, meaning that you are qualified to work in gyms and fitness facilities across the UK.
However, at this stage, you will not be qualified to work as a personal trainer. To do this, you have to pass your Level 3 Qualification in Personal Training.
Level 3 Personal Training certificate
The Level 3 qualification lets you achieve the skills required to become a fully-fledged personal trainer.
The course goes into more depth on all of the level 2 content, as well as introduces you to a host of new skills. For example, your anatomy modules will explore areas like the skeletal systems, planes of movement, energy systems and types of stretch in far more detail.
You will also learn about nutrition, the ins and outs of programming personal training and designing plans, how to instruct specific clients like older clients, disabled clients etc, and you will gain practical experience of teaching exercises.
Several different organisations will offer you courses to train as a personal trainer; however, the key thing to remember is that all courses must be accredited by REPS or CIMSPA.
Obtain a First Aid Certificate
It is essential for personal trainers to have a first aid qualification in case a client has an injury whilst they are working with you. A first-aid certificate remains valid for 3 years.
Have the Personal Trainer Insurance
Though not a legal requirement in the UK, personal trainer insurance will cover you in the event of your client being injured under your care. If a client is injured whilst working with you, they can even decide to sue you for that injury. That is why you shouldn't be taking the risk and have insurance instead.

Top Courses of this Category
Can You be a Personal Trainer without a Degree?
You do not need a college degree to become a successful personal trainer. All you need to start your career as a personal trainer is to obtain certification. Most personal trainer certification courses do require you to have a high school diploma or equivalent.
Even though a college degree is not mandatory, having one does give you more credibility in the industry. A bachelor's degree in exercise science or any other health and wellness-focused degree will give you a good start in your career as a personal trainer.
---
How Long Does it Take to Become a Personal Trainer?
The route you follow to be a personal trainer would determine the time it will take to be one. A certificate may be earned in a matter of months, an associate's degree in two years, and a bachelor's degree in four. If you choose to enrol in certificate programs, know that some certificate courses take as little as three months to complete, while others can take up to two years.
Again, choosing an online program might affect the time to be a personal trainer since online programs can often be completed more quickly.
---
How Much do Personal Trainers Make?
According to the National Careers Service, "The salary of a personal trainer at the initial stage is £14,000 and that of an experienced trainer is £22,000." 
The salary of personal trainers would differ depending on the career path they choose. As per PROSPECTS, "Freelance instructors can expect to earn between £20 and £40 an hour. This could be much higher, £50 to £100 per hour in some locations and if they are working with high profile clients."
"For those employed by a gym or similar, expect to start on a salary between £14,000 and £16,000, rising to between £20,000 and £30,000 with experience."
Also, payscale suggests the pay difference of personal trainers by locations as shown below-
| | |
| --- | --- |
| City | Salary |
| Bristol | £22,957 |
| Manchester | £23,000 |
| London | £25,000 |
---
Personal Trainer Career Options
The diverse applications of exercise allow personal trainers to work in various unique settings. Although the majority of the personal trainers tend to work in traditional settings like fitness centres, more and more certified personal trainers are also reaching out to schools, adult centres, and corporate wellness programs.
As a personal trainer, you have the chance to shift and explore other relevant fields where you can consider working in different positions. Have a look at the following to get an idea of the available positions.
Health and Wellness Coach
Exercise Physiologist
Sports Nutritionist
---
Tips on How to Become a Successful Personal Trainer
No profession on earth has a shortcut to reach the peak of success. Hence, you also need to work hard and possess the desire to improve yourself to be a successful personal trainer. If you are in a perplex and trying to figure out the route to success, we have provided some tips below, which you might consider following.
Know your Clients
Try to build a good relationship with your clients to be a successful personal trainer. Make casual yet professional conversations with your client to get to know them better. Focus on their emotional wellbeing along with their physical fitness. This will help develop a strong connection with your clients and give your client a reason to continue to work with you.
Find a Niche
If you are a personal trainer, determine a fitness niche you want to focus on. Having an area of expertise will set you apart from your competitors. Do not try to be a jack of all trades. Educate yourself as much as you can by finding one or two areas you are passionate about.
Some trainers focus on a specific type of training or type of clientele. Some niches of clientele include-
Bodybuilders
High-level athletes
Young people
Prenatal or postnatal people
People hoping to lose weight
Build your business catering specifically to your clients' needs. This would help you to build a strong client base in the long run.
Master Sales and Marketing
Knowing how to market and sell your training services is essential for your fitness business and success. You won't get many clients if no one else knows about your calibre.
Mastering the promotion and sales aspects will ensure a steady stream of clients. That is why dedicate at least two hours a week to generate leads and follow up enquiries.
Network
Personal training is all about who you know; if you build a strong network, success will follow. Never miss any opportunity to shake a hand. Networking and business go hand in hand for an entrepreneur, so try reaching potential clients through your social skills.
Local clinics, fitness expos, wellness fairs, workshops, and even business events are great places to start. They will provide you with a platform to meet new people. When you attend such events, do not forget to bring flyers or business cards that include your contact information. People should be able to easily reach you when they are ready to start training.
Continue Learning
The fitness industry is constantly evolving as new training trends are emerging every now and then. Successful personal trainers make the best use of such evolution by staying updated with the latest developments.
As a personal trainer, you should attend fitness conventions and training workshops, and also sign up for personal training webinars to hone your existing skills and improve your knowledge in the respective field. When you are not training clients or working out, spend your time reading every piece of literature that will help you design the best programs and training sessions for your clients.
You can consider earning new certifications as well. This may help you to expand your expertise. Various organisations offer certificates in specialities like-
The more you educate yourself, the more you will be valued by your clients. Put effort and success will be yours.
---
Conclusion:
"Personal Trainers" have become another name of a high-demand persona these days. As mentioned by PROSPECTS, "The State of the UK Fitness Industry Report (2017) states that, the UK health and fitness industry has grown significantly in the past few years and is continuing to do so, with 2020 being potentially cited as the golden age of fitness." Since these fitness professionals are now serving in every field, being a personal trainer can be an excellent career option for those who are genuinely interested.
FAQ:
What kind of education do you need to be a personal trainer?
We have discussed this topic in detail in the blog; please give it a read.
How much do personal trainers get paid? / How much does a personal trainer make per client?
Your pay as a Personal Trainer will differ depending on your service area. The typical personal trainer's pay in London is £25,000 – £35,000 per year, with hourly rates ranging from £17 to £62.
How many years does it take to become a personal trainer? / How fast can you become a personal trainer?
Education, certificates, and other training are all requirements to become a personal trainer. A bachelor's degree normally takes four years to complete. Personal trainer certification courses, on the other hand, are frequently finished in less than a year. You can take the way that is most convenient for you.
What requirements does a personal trainer need?
Please read the answer to the question above.
Which personal training certification is best in the UK?
As the UK's professional organisation for health and fitness, CIMSPA (Chartered Institute for the Management of Sport and Physical Activity) is well-known and recognised.
What are CPD courses in the fitness industry?
Continuing Professional Development (CPD) is a method for professional trainers to demonstrate that they continue to learn and improve throughout their careers and that they are capable of working safely, legally, and successfully in their sector. CPD guarantees that your skills and client fitness and motivation remain current with the latest standards of fitness industry training and peer groups.
What is the difference between a 'fitness instructor' and a 'personal trainer'?
A gym instructor is an employment in which you have a contract, a gym employs you, and you are paid. A personal trainer, on the other hand, is usually hired on a freelance basis, charging their own costs and dealing directly with the customers.
Do you need to be qualified to do personal training?
Being a self-employed PT and running a gym are two of the most profitable career routes a personal trainer can take, but neither is possible without qualifications.
Can you train clients without a certification?
While it is not unlawful to call oneself a personal trainer without a Level 3 certificate, it is prohibited to work as a personal trainer without insurance. Given that you would be unable to obtain insurance without proof of your qualifications, you may argue that providing personal training without certification is unlawful or, at the very least, a very bad idea.
---
What to Read Next: