Education and Training
How to Become a Nursery Teacher?
Are you passionate about working with children? Do you enjoy spending time with them? Are you creative and interested in cutting and sticking? If your answer is 'yes,' becoming a nursery teacher is the right profession for you.
A nursery teacher prepares the students for the next stages of their life by playing multiple roles at a time. Just like a mother, a nursery teacher affectionately takes care of a child in the classroom and remains responsible for the child's overall well-being. They impart their knowledge, provide guidance and help children develop their emotional and social skills.
If you have been thinking of this profession lately and are curious to know more, read this blog and find out how to become a nursery teacher.
Who is a Nursery Teacher?
A nursery teacher is someone who teaches basic language and social skills to children at the preliminary stage of their education through play, games and various interactive activities. They actively participate in developing a child's skills and abilities.
---
What are the Qualities a Nursery Teacher should have?
A nursery teacher needs to have a genuine care for children and a passion for teaching using innovative techniques. Since teaching children at the preliminary level is different and challenging than teaching younger children, some of the desirable qualities of nursery teachers are-
Patience– The most integral skill that a nursery school teacher would require. As every child is different and so is their attention span and learning ability, teachers need to be patient to deal with them.
Engaging Personality- A good teacher should be able to engage students with their charm and personality. When it comes to nursery level students, they usually like the teachers who are entertaining and affectionate towards them. Thus, nursery teachers are required to have a cheerful persona.
Creativity- As a nursery grade teacher, you need to be creative and use your imagination while spending time with children.
Being Energetic- Nursery teachers need to engage their students by involving them in different interesting activities. The children might not want to cooperate every time, but as a teacher, you should not give up.
Flexibility- Teachers need to be prepared for any change in the classroom and they must adapt accordingly. They should be ready to handle any type of difficult situation in the classroom.
Humour– Children love to laugh. Having a humorous personality would therefore be a plus point.
Good Listening and Communication skill– Children will not be interested in a class if they feel that their teacher is not listening to them. Apart from being a good listener, nursery teachers should also try to be good communicators.
Passion for Teaching Children– Nursery teachers need to be passionate about teaching children since this job can get difficult at times. Children are often restless and do not want to follow instructions. Only a teacher having the desire and dedication can deal with children appropriately.
---
What Does a Nursery Teacher Do?
The role of a nursery teacher can be diverse as no two days are the same while teaching preliminary level students. Working with children can be unpredictable, so you might have to perform multiple roles as a nursery teacher. Typical tasks of a nursery teacher may include:
Preparing engaging learning resources such as visual aids
Helping children to explore and learn things through fun activities
Keeping the record of attendance
Supervising children during break period
Monitoring and reporting on children's development
Updating parents on their child's progress
Working with other teachers to coordinate plans
Attending educational parent programs and orientations
Keeping the classroom organised and tidy
Promoting mental and physical development by organising and leading activities such as arts and crafts, games, and music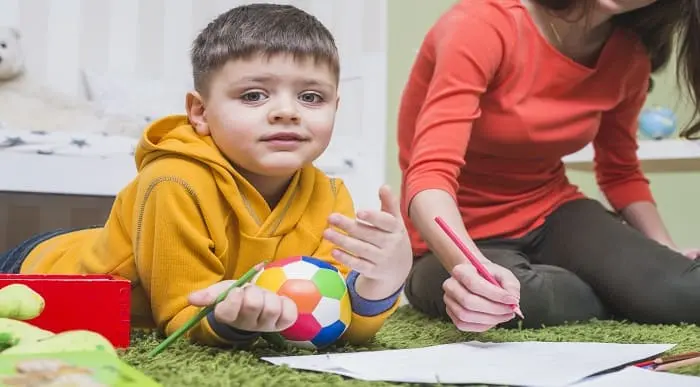 Early Years Foundation Stage Course Online
Accredited Courses
Tutor Support Included
3 Installment Plan at checkout
14 Days Money Back Guarantee
Working Hours:
The working hours of nursery teachers might vary depending on their work setting. However, it can be up to 40 hours a week. Nurseries are usually open from 7.30 am until 6.30 pm and the teachers typically work from 8.30 am to 3.30 or 4 pm.
The nursery teachers also need to work extra hours for staff meetings, inspections and parent consultations. They spend additional time on planning and preparation for activities or lessons as well.
Part-time hours, temporary work and career break opportunities – all are available in this profession.
---
What to Expect?
As a nursery teacher, you cannot stick to a particular task; you would have various responsibilities related to teaching and activities outside teaching as well. 
You will work as part of a team with other childcare professionals like nursery practitioners and teaching assistants. The paperwork involved in the job might require working on some weekends.
You need to constantly come up with new ideas to create engaging learning activities and use your creativity. Sometimes, you might struggle to keep up your activity level.
This job requires you to be a multitasker. Besides teaching, you have to keep an eye on the behaviour of the children, their performance, attendance along with classroom decorations, seating arrangements, teaching and learning resources.
Within a nursery setting, you will typically be allocated a room and age range, for example, toddler, pre-school, etc.
Travel during the working day is rare, except for school trips. Overseas work or travel is unlikely.
What are the Benefits of Working as a Nursery Teacher?
While there are challenges, the job of a nursery teacher can be rewarding as well. Have a look at the benefits of working as a nursery teacher as described below-
Exciting Work Environment– Every day is a new challenge when you work as a nursery teacher. Since you have to plan different fun and interactive activities for children to get their attention, you will get to learn and experience a lot of new things every moment. As a nursery teacher, you will never have a dull day.
Flexible Work Schedule- The job of a nursery teacher offers a sort of flexibility that you might not be able to enjoy in many other jobs. You do not need to work during the evening or late hours when you work as a nursery teacher. This allows you to maintain a healthy family and social life along with your professional life.
Development of Multitasking Skills– In addition to teaching children, a nursery teacher takes up the role of a mentor, organiser, nurse, adviser and so on. This allows them to achieve several skills.
Bringing a Positive Difference in Children's Lives- Nursery teachers train children in a variety of skills, such as good manners, courtesy, getting along with others, how to listen to a teacher and other children and many more. As a teacher, you will take pride in your children's accomplishments, enjoying their excitement.
Strengthening Bond with Children- When you teach the same children on a daily basis for a long time, there is eventually a bond created between you and the children. You may gain the student's trust by making a bond that becomes incredibly special.
Building Interpersonal Skills– Teaching at a preliminary level requires a lot of patience, emotional intelligence, communication and listening skills.  You are bound to develop your interpersonal skills after working at the nursery level for a certain period of time.

Top Courses of this Category
How to Become a Nursery Teacher: Qualifications and Training
If you are planning to be a nursery teacher, you need to be qualified up to degree level with GCSE passes in Maths, English, and Science along with two or three A-levels. You will also have to take a numeracy and literacy test and pass an enhanced Disclosure and Barring Service (DBS) check.
Furthermore, to become a nursery teacher in the UK, you must gain Early Years Teacher Status (EYTS). This can be obtained by taking an Early Years Initial Teacher Training (EYITT) course.
There are a number of training routes that lead to Early Years Teacher Status (EYTS), which are-
Undergraduate entry- You can undertake a full-time degree in an early childhood-related subject, which can take three to four years to complete.
Graduate entry – This is usually a year of full-time study with work placements for those with an undergraduate degree. A £7000 grant is available to cover course fees along with bursaries up to £9000 for graduates with a first-class degree.
Graduate employment-based – This is a one-year part-time route for graduates who are working in early years setting but need further training to show they meet the Teachers' Standards (early years). Funding of £14,000 is available that covers the course fees of up to £7,000. The remaining £7,000 is for the costs incurred by your employer.
Assessment only – This self-funded route is ideal for graduates with experience of working with children from birth to 5 and who meet the Teachers' Standards (Early Years) with no need for further training. This training usually takes three months to complete.
---
How much do Nursery Teachers Make?
According to the National Careers Service, "The average salary of a nursery teacher is £25,714 at the initial stage of their career which might rise to £36,961 once they become  experienced."
As per totaljobs, the nursery teachers' pay in different locations are-
Career Prospects of Nursery Teachers:
There may be a heap of opportunities once you have gained experience as an early year or nursery teacher. You can shift to a management role which could be a staff supervisory role or managing a nursery or group of nurseries. You can choose to open your own nursery as well.
With additional qualifications and experience, it is possible to specialise in certain areas, such as special educational needs. You can do further training to achieve Qualified Teacher Status (QTS) in order to work as a primary or secondary school teacher.
Working as a nursery teacher can also lead to local authority advisory roles or into the mentoring and assessing of early years teachers and other trainees.
---
Conclusion:
Nursery teachers play an important role in nurturing children in their early years of development. Their contribution does not remain confined to teaching only; they actively participate in building their emotional intelligence and mentoring them continuously. Undoubtedly, it is an honourable profession.
---
What to Read Next: